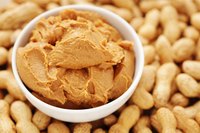 Peanut allergies are one of the most common food allergies and the most prevalent food allergen in children, reports the American Academy of Allergy, Asthma and Immunology. They're also more likely than any other food to cause a potentially deadly reaction. This makes it vital to recognize the symptoms of an allergic reaction so you can seek quick treatment. If you're allergic to peanuts, eating even the smallest amount of peanut butter can be life-threatening, meaning that you'll need immediate medical attention.
Common Immediate Symptoms
If you're allergic to peanuts, symptoms will occur within minutes of eating peanut butter. The most common immediate reactions to peanut butter are similar to those associated with all food allergies.
A variety of skin symptoms are likely to appear, ranging from swelling and itchy skin to hives, which may begin as an itch that develops into swollen red welts, notes MayoClinic.org.
Other symptoms occur around the mouth and throat. The mouth often feels itchy or tingly, while the throat may tighten. A runny nose and wheezing are also common symptoms.
In addition, an allergy to peanut butter may cause gastrointestinal symptoms, such as stomach cramps, diarrhea and vomiting.
Anaphylactic Reaction
Anaphylaxis is an allergic reaction to peanut butter that quickly turns into a life-threatening situation. You can experience any of the more common symptoms first and then progress to anaphylaxis, or you may react straightaway with the more severe response.
Symptoms caused by anaphylaxis include constricted airways or swelling in the throat, both of which may interfere with breathing, reports the American College of Allergy, Asthma, and Immunology.
Blood pressure can drop, skin may turn pale and you can get dizzy and lightheaded. This is a true medical emergency that requires immediate professional attention to prevent unconsciousness and, in the worse case, death.
Peanut Intolerance
If you eat peanut butter and don't experience symptoms for several hours, you may have an intolerance rather than an allergy.
The symptoms of an intolerance are more variable than an allergy, but they're classic gastrointestinal problems. You may experience stomach pain or cramps, gas, nausea, vomiting and diarrhea.
Even if symptoms are delayed and mild, if you have any physical reaction after eating peanut butter, be sure to talk to your doctor to be sure you can continue to safely consume peanuts.
Avoid Other Nuts
Even though they're called nuts, peanuts are legumes that grow underground, which means they're related to beans, peas and lentils. If you're allergic to peanuts, it does not increase your chance of being allergic to other legumes, according to Food Allergy Research and Education, or FARE.
But if you're allergic to peanuts, chances are you'll need to avoid tree nuts, including almonds, cashews and walnuts. About 25 percent to 40 percent of people who are allergic to peanuts also have allergic reactions to tree nuts, reports FARE. Just be aware that the symptoms of a tree nut allergy are similar to a peanut butter reaction.