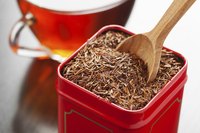 Green rooibos is a South African plant that may offer benefits such as promoting healthy blood sugar, protecting against chemotherapy damage and delivering rich antioxidants. Rooibos leaves are commonly used to make tea, and extracts are available at health food stores and online. A bonus if you're looking to cut back on caffeine is that rooibos tea is naturally caffeine-free. If you're interested in using green rooibos as herbal medicine, discuss it with your health care provider first.
Green Versus Red Rooibos
Both red and green rooibos come from the same plant. The difference between the two comes down to processing. Traditional rooibos is allowed to ferment for about 12 hours prior to drying, whereas green rooibos is unfermented and dried immediately after harvesting. The difference in processing results in unique characteristics between the two. Traditional rooibos tea possesses a naturally sweet taste and amber color, while green rooibos has a milder, somewhat nutty flavor and lighter color.
Rich in Antioxidants
Rooibos is rich in beneficial polyphenols, or plant antioxidants. The major polyphenol constituent of rooibos is an antioxidant called aspalathin. Green rooibos is higher than red rooibos in the antioxidant aspalathin and exerts more powerful antioxidant effects, according to a study published in the February 2013 issue of the journal Phytomedicine. While green rooibos has more antioxidants, the South African Rooibos Council asserts that it's not necessarily better for you than red and that both offer benefits.
Possesses Chemoprotective Properties
Green rooibos protects against the damaging effects of chemotherapy, according to a study published in the January 2009 issue of the journal Food and Chemical Toxicology. In addition to killing cancer cells, chemotherapy harms healthy tissues. In an experiment, researchers found that green rooibos tea protected against chemotherapy-induced damage more significantly than unfermented rooibos. The authors concluded that the fermentation process reduces the chemoprotective properties of herbal teas, making green rooibos a better option for this purpose.
May Promote Healthy Blood Sugar
The high aspalathin content in green rooibos may benefit blood glucose, according to an animal experiment published in the December 2012 issue of Phytomedicine. Researchers aimed to confirm the anti-diabetic effect of aspalathin demonstrated in previous studies. In their experiment, scientists found that green rooibos lowered blood glucose in a manner comparable to that of the diabetes drug metformin. Researchers won't know if it has the same effect in humans until further studies are conducted.