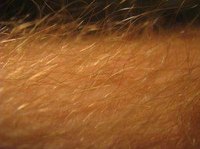 Are you noticing odd pimples or red, itchy bumps on your skin where hair normally grows? You may have a condition known as folliculitis. Folliculitis is an infection of the hair follicle. Untreated, infected hair follicles can cause infections to occur in the blood or even internal organs. A visit to the doctor will diagnose the type of folliculitis you have so you can begin treatment right away.
Bacterial Infection
Some forms of folliculitis are caused by a bacterial infection of the hair follicle. Staphylococcus, more commonly known simply as staph, is the most common type of bacterial infection that causes folliculitis. Staph occurs naturally on the body. When it infects a hair follicle and rapidly reproduces, it can produce pimple-like bumps at the hair follicle. It is most commonly treated with an antibiotic.
Fungal Infection
A fungal infection of a hair follicle can also produce folliculitis. Hair follicles that are infected with a fungus can be red, itchy and bumpy. Sometimes, the bump will form a white head, giving it the appearance of a pimple. The most common form of hair follicle fungal infection is caused by keratinophilic fungi and it mostly affects men or teens who are shaving. This condition is called tinea barbae and can be treated with an antifungal medication.
Shaving
Shaving can create an environment for both bacterial and fungal folliculitis. However, it can also cause pseudofolliculitis, more commonly called ingrown hairs. When the shaft of a hair is shaved off below the surface of the skin, the hair follicle can become blocked by dead skin cells or natural skin oils combined with dirt. This makes it difficult for the hair to surface, resulting in a hair that curls back on itself or grows sideways.
Tight Clothing
Clothing that is too tight can cause folliculitis to develop because of friction and excessive sweating. Friction can cause dead skin cells to block the hair follicle. Sweating, combined with dirt, oils or skin cells, can created a plug that prevents a hair from being able to grow beyond the surface of the skin. This can cause pseudofolliculitis, bacterial folliculitis or fungal folliculitis.
Poor Hygeine
A person who does not bathe regularly or thoroughly may be more prone to bacterial or fungal folliculitis. While bacteria and fungi occur naturally on every person's skin, normal bathing and beneficial bacteria usually keep the harmful bacteria and fungi in check. Poor hygiene can create conditions that allow the harmful bacteria and fungi to rapidly reproduce, causing folliculitis or other skin infections.