A thermal printer uses heat and carefully applied pressure to mark paper in patterns. This requires specially treated paper and is most often used for simply black and white printing, especially bar codes. Because the printer does not require ink or ink replacements, it can be less expensive to operate, although its uses and speed are limited.
Definition
Thermal printers use heat to produce ink-like marks on paper by applying heated dots in layers to create a pattern. This method works primarily with black and white printing, and is generally rarer than dot matrix printers which use different colors of ink. While thermal printers can be switched to a multicolor setting, this is not as common.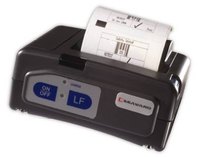 Paper
Thermal printers require a special type of paper that reacts to heat. This paper is treated with a coating that darkens the page when the heating element of the printer touches it. Such paper is known as thermal-sensitive, and there are various kinds made depending on purpose and technology. Modern thermal-sensitive paper is stable enough to last several years.
Uses
Originally, thermal printers were used in fax machines, but these were eventually replaced with more accurate and efficient systems, leaving thermal printers with specific niche uses such as printing bar codes. Because thermal printers only use treated paper, they do not require ink and are less expensive to operate. In the first thermal printers, the heating element needed to cool down between printings, so printing speed tended to be slow. Modern thermal printers have more efficient heating mechanisms and can print more quickly by generating heat in cycles.
Features
Because thermal printers don't use ink, they do not need ink injection systems where ink is applied dot by dot across the paper. Thermal printers replace this with a heating element that operates in a similar fashion, using a computer to store data by pixel row and then applying the heat through the thermal head onto the paper.
Alternatives
Thermal printers may also use a process called thermal wax transfer, in which the heating element melts a ribbon of ink wax and applies it to the paper. This method can be used with normal paper, but it is expensive and used mostly for achieving particular printing effects. Thermal dye printers, which operate in a similar way, are also available.