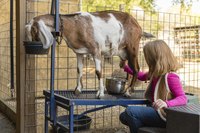 Whether you're looking for an alternative to cow's milk for health reasons or due to an allergy or intolerance, you may consider giving goat's milk a try. Like cow's milk, goat's milk is a good source of protein, calcium and a variety of other health-promoting nutrients, but it is also higher in fat and calories. Some research indicates it may have immune-enhancing and anti-inflammatory properties as well.
Low in Lactose
About 30 million adults in the United States have some sort of lactose intolerance, according to MedlinePlus. Lactose is the primary carbohydrate found in milk, and some people have difficulty digesting the carbohydrate due to a lack of the enzyme needed to digest it. If drinking cow's milk causes abdominal pain, gas or diarrhea, you may want to consider switching to goat's milk. Goat's milk contains less lactose, and it may be better tolerated.
Less Allergenic and Immune-Enhancing
Although goat's milk is a good source of protein, the protein is structurally different than that found in cow's milk. This difference may be why children who are allergic to cow's milk tolerate goat's milk. One cup of goat's milk contains 9 grams of protein, while the same serving of cow's milk has 8 grams.
Goat's milk may also boost your immune health and offer protection against inflammation, according to a 2014 study published in Endocrine, Metabolic and Immune Disorders Drug Targets. It seems that the friendly microbes found in goat's milk improve the bacterial environment in your gut.
Good for Your Bones
Like cow's milk, goat's milk is naturally rich in calcium and in fact may be a slightly better source. A 1-cup serving of goat's milk meets 33 percent of the daily value for calcium, while the same serving of cow's milk, nonfat or whole, meets 28 percent to 30 percent of the daily value.
Calcium not only promotes healthy bones and teeth but is also necessary for the contraction and expansion of your muscles and blood vessels and the secretion of hormones and enzymes.
A Nutrient-Rich Food
Goat's milk is not only rich in calcium but is high in a number of other nutrients you need for good health, including vitamin A, riboflavin and potassium. Vitamin A helps maintain skin integrity and is necessary for eye health. Riboflavin is a B vitamin that helps make red blood cells and assists with the release of energy from carbohydrates. You need potassium to build muscle and maintain acid-base balance. Potassium-rich foods like goat's milk may also help you manage your blood pressure by helping your body excrete sodium.