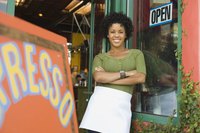 Self-employed individuals have to pay the same taxes as people who work for a "boss," plus they have additional responsibilities, such as paying the employer's share of Social Security and Medicare taxes and making estimated tax payments. When you're self-employed, you take care of these responsibilities with specific forms from the Internal Revenue Service.
Schedule C
Self-employed individuals must report their business profit — that is, their business revenue minus their business expenses — as income on their personal income tax returns. Use Schedule C to figure your business profit and file it along with your return. You may be able to use a simplified version of this form, Schedule C-EZ, if you meet several conditions. Among them: You have no employees, you have no more than $5,000 in business expenses, you don't maintain an inventory and you operated only one business during the year.
Schedule SE
You use Schedule SE to calculate the self-employment taxes due on your business profit. These are simply Social Security and Medicare taxes. When you work for someone else, your employer withholds Social Security and Medicare from your pay. When you're self-employed, though, you have to handle it yourself with Schedule SE. Employers and employees both pay Social Security and Medicare taxes. Self-employed people must pay both the employer and employee portions.
Form 1040-ES
When you are an employee of someone else, your employer not only withholds taxes from your paycheck but also sends the money to the government on your behalf. This is something else you have to take care of when you're self-employed. In general, self-employed people must make estimated tax payments four times a year. These payments are usually due April 15, June 15, Sept. 15 and Jan. 15. Use Form 1040-ES to make estimated tax payments.
Form 8829
If you use a portion of your home as your principal place of business, you may be able to claim a home office tax deduction. In general, to qualify for this deduction, you must have a portion of your home set aside exclusively for business use — meaning you can't use it for something else — and you must use that area regularly for business. File Form 8829 with your tax return to claim a deduction for business use of your home.