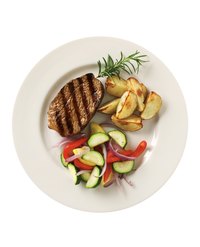 Eating a healthy diet may help you keep your skin looking its best. While no vitamin is likely to cure skin problems unless they're due to a vitamin deficiency, some vitamins are associated with skin health. Getting enough of these nutrients may make you less likely to suffer from certain skin problems, including acne and skin cancer.
General Skin Health
Many vitamins play at least a small role in skin health. A lack of vitamin B-12 can give you sensitive skin, and not getting enough biotin could cause dry skin. Vitamin A deficiency can potentially leading to dry, scaly skin. Vitamin C is essential for healing wounds and minimizing bruising, and a riboflavin deficiency could cause dry, flaky skin. Vitamin B-6 deficiency can lead to greasy, flaky skin, and a lack of niacin may also leave you with skin problems.
Limiting Acne Risk
A study published in Clinical and Experimental Dermatology in May 2006 noted that people with severe acne had lower levels of vitamins A and E than those with mild acne, who had lower levels than those with no acne. Another study, published in Cutaneous and Ocular Toxicology in June 2014, came to a similar conclusion. Thus, eating more foods rich in these nutrients may help limit acne, although further research is necessary to verify these results.
Some forms of vitamin A are prescribed for treating acne, either in pill or topical forms, but their use must be supervised by a doctor due to potential serious side effects.
Skin Cancer Recurrence
Nicotinamide, one of two forms of niacin, may help to limit the recurrence of nonmelanoma skin cancers, according to research presented at the June 2015 American Society of Clinical Oncology annual meeting. People who took this supplement twice a day were 23 percent less likely to suffer from skin cancer again compared to those given a placebo. The theory is that this vitamin helps repair ultraviolet light damage to the skin and keeps your immune system working properly, thus minimizing skin cancer risk. It's still essential to wear a broad-spectrum sunscreen every day, however, to prevent UV exposure in the first place.
Skin Aging
Vitamin E in the skin can absorb some ultraviolet light, helping to limit UV damage to your skin. It only absorbs some types of UVB light, however, and not UVA light, so you can't rely on vitamin E in place of sunscreen. Topical vitamin E may be more beneficial than dietary vitamin E for preventing skin damage. UV damage is one of the causes of skin aging.
A study published in the American Journal of Clinical Nutrition in October 2007 found that people who ate more vitamin C-rich foods and fewer foods high in carbohydrates and fats were likely to have fewer wrinkles and a better skin-aging appearance.
Potential Considerations
Check with your doctor before taking vitamin supplements. Taking these supplements has some potential risks. For example, a study published in the Journal of Nutrition in September 2007 found that antioxidant supplements containing beta-carotene, zinc, selenium and vitamins C and E were associated with a higher risk of skin cancer in women but not in men. It's also possible to get too much of some vitamins, especially the fat-soluble vitamins A, D, E and K, which can cause toxicity symptoms.