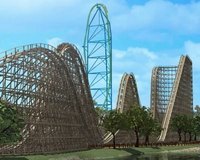 Six Flags theme park is fun for young and old alike. Six Flags is not only a theme park; it also has a water park and even an animal park. You can find a Six Flags park in 20 locations around the United States, Canada and Mexico and even one in the United Arab Emirates. Plans are underway to expand into more international venues.
Early History
In 1961 the first Six Flags park was opened by founder Angus Wynne in Texas. Six Flags introduced the world's first log flume ride and the very first ever steel roller coaster and whitewater rides. The first Six Flags park featured several different attractions for young and old. For those who did not want to experience the thrill-seeking rides, Six Flags had a Western Venue--including a saloon, jail, Indian village and a "Fiesta Train," as well as a goat ride and petting zoo. They also had several different types of shows and music presented in the amphitheater. The admission price for the park, for anyone taller than 4 feet, was $2.75, and the park drew in over 1 million people in the first year. In 1966 Wynne sold his theme park to Penn Central Corp, and the following year Six Flags made its first move beyond the Texas state line and opened a Six Flags in Atlanta, Georgia. Penn Central was in need of money by the end of the decade, so the company sold Six Flags Over Texas and Six Flags Over Georgia to two different limited partnership groups. However, the Six Flags company continued to manage both parks under long-term contracts.
Features
Six Flags is the second-largest theme park operator in the United States (Walt Disney is first) and is the world's largest regional theme park company. The company is headquartered in Oklahoma City and has a second corporate office in New York City. Six Flags thrives on local markets, whereas a place like Disney World attracts worldwide visitors.
Features
Six Flags features animal attractions, thrill rides, restaurants, shows, merchandise stores, kiddie attractions, water rides and slides and even a place to sit down and have a relaxing picnic with your family. Six Flags also has exclusive rights to the theme park usage of DC Comics Justice League Super Heroes and Warner Brothers characters in most of Latin America, Europe and North America. Many of the parks feature characters such as Daffy Duck, Bugs Bunny, Tweety Bird, Yosemite Sam, Superman and Batman.
Competitors
With so many theme parks out there, Six Flags' main competitors are Walt Disney Company, Universal Studios, Cedar Fair, Paramount Pictures Corporation, Anheuser-Busch Companies, Viacom Inc. and Euro Disney S.C.A.
Locations
Six Flags has locations all over. They have three parks each in California, New Jersey and Texas. Two parks in Georgia and New York and one park in Illinois, Kentucky, Maryland, Massachusetts, Missouri, Canada, Mexico, and United Arab Emirates.
Cost
The price of tickets for Six Flags can vary based on the state. you have the option to buy one-day passes or season passes.