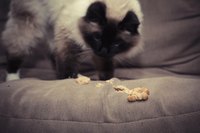 Most cats throw up once in a while. Although you should keep an eye on your cat, it's not a reason to panic. Regular or chronic vomiting is another story. Your cat needs a veterinary visit to determine what's wrong. Since constant vomiting can indicate various diseases or conditions, your vet will perform blood tests to get to the bottom of Kitty's problem and decide on the appropriate treatment.
Acute Vomiting
If your cat has thrown up for a few days but tests indicate nothing else amiss, your vet might recommend not feeding your pet for up to 24 hours, although water should always be available. When feeding recommences, give your cat a bland diet, often rice and boiled chicken. Let him eat small amounts of the bland diet several times a day. If he keeps his food down, you can add his regular food to the bland diet over the next few days, until he's eating his normal diet.
Chronic Vomiting
A headline in a 2014 article in "Veterinary Practice News" reads, "Chronic vomiting in cats isn't normal after all." The author states that chronic feline vomiting is so common that "many vets and cat owners have made excuses for it." If your cat throws up a lot, make sure thorough testing is done. Chronic vomiting can result from liver or kidney failure, ulcers, pancreatitis, cancer, hyperthyroidism, Addison's disease, consuming a foreign object, inflammatory bowel disease, diabetes, intestinal parasites and constipation, among others. Besides blood and urine testing, your vet also might conduct X-rays to diagnose the problem.
Medications for Vomiting
Your vet might prescribe antiemetics to control your cat's vomiting. Common prescription medications for vomiting include metoclopramide, marketed under the brand name Reglan. Metoclopramide improves food motility, so food is digested faster and your cat is less likely to suffer nausea and vomiting. If your cat has kidney disease, your vet might recommend a daily famotidine tablet, marketed for people under the brand name Pepcid AC. Cats with stomach ulcers might have cimetidine prescribed.
Other Treatments
Other treatments depend on your cat's diagnosis. If your cat has diabetes, he'll require daily insulin injections and dietary changes. If your vet finds an infection is causing the vomiting, she will prescribe antibiotics. Cancer might require surgery, along with chemotherapy. If your cat has inflammatory bowel disease, your vet will prescribe a special diet for him, along with steroids to reduce inflammation. If it turns out Kitty ate a foreign item, it probably requires surgical removal. Kidney and liver disease also require dietary changes, along with intravenous fluids.