Hibiclens Soap is a proprietary topical antiseptic antimicrobial used in the health care industry and prescribed to patients with a variety of skin infections, or as a pre-operative soap. Hibiclens is also sold over-the-counter and is used to treat acne. This article addresses the specific uses of Hibiclens, special considerations that should be taken for its users and pertinent warnings.
Function
Hibiclens Soap is used by health care professionals, and as a topical treatment of skin infections including Pseudomonas aeruginosa, Staphylococcus aureus, Methicillin Resistant Staphylococcus Aureus. Health care professionals use Hibiclens for a variety of purposes including as a surgical hand scrub, a pre-operative cleanser for patients at home or while on the operating table, and as a routine hand cleanser. Functioning as a powerful antiseptic antimicrobial topical soap, it contains 4% Hibitane, or the trademarked combination of chlorhexidine gluconate.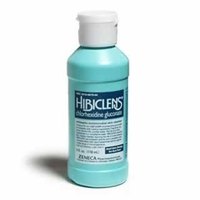 Effects
As a topical antiseptic antimicrobial soap, Hibiclens has been shown in tests to effectively kill bacteria on contact, including gram-positive and gram-negative bacteria. For this reason, it is prescribed for patients who test positive for a variety of skin infections. Additionally, Hibiclens is effective against a wide spectrum of bacteria on covered hands for six hours and uncovered hands for five hours in a study conducted that simulated surgical conditions.
Considerations
Special consideration should be taken when laundering clothing that has come into contact with skin treated with Hibiclens because it bonds with fabric, especially cotton or cotton blends. When laundering clothing or bedding, do not use chlorinated bleach because the chlorhexidine gluconate may chemically react and result in brown staining.
Warning
Additionally, Hibiclens should not be used by individuals who have a sensitivity to its active or inactive ingredients, and should be kept out of eyes, nose, ears and away from the genitals. Serious complications including blindness, deafness and allergic reactions have been documented when Hibiclens comes into prolonged contact with mucus membranes. Keep out of the reach of children. In case of accidental ingestion, contact a Poison Control Center immediately or seek professional attention.
As an acne treatment
A common use of Hibiclens is for treatment of cystic acne. It's not recommended as a stand-alone product but in conjunction with a variety of skin regimen products including a non-alcohol-based cleanser and oil-free moisturizer. Personal experimentation may be required to determine the most effective incorporation of Hibiclens into an existing skin regimen. Whether used prior or after an alcohol cleanser the process is the same; wet a cotton ball with Hibiclens, and apply to face as an astringent. Do not allow any amount of the product into your eyes, nose, or mouth; if this occurs, rinse immediately with copious amounts of water and contact a Poison Control Center immediately. Follow up with either another toner, personal cleanser, or an oil-free moisturizer.