The spleen is an organ on the left side of your body, underneath the lower part of your rib cage. Its purpose is to make lymphocytes and immune system cells that help attack infections. In addition, it purifies impaired blood cells, cell waste and bacteria. Lymphoma is a cancer that develops in the lymph system, which includes the spleen. Symptoms may not appear until a few years after the cancer begins.
Fatigue
Unexplained fatigue may be one of the first symptoms of any type of lymphoma. Fatigue may be the result of low blood counts.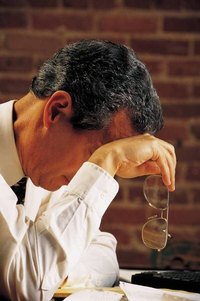 Abdominal Pain
Abdominal pain is caused by the enlargement of the spleen. According to the World Journal of Gastroenterology, about 30 percent to 40 percent of non-Hodgkins lymphoma affects the spleen.
Loss of Appetite/Weight Loss
Loss of appetite is caused by a full feeling because of your enlarged spleen. Over time, this results in weight loss.

Night Sweats, Fever and Chills
You may experience night sweats and chills due to fever. Fever may come from your spleen's inability to produce lymphocytes to fight infection.
Itching
Severe itching of the hands and feet can be a symptom of spleen lymphoma, and may be worse during the night. This symptom may also appear early in the disease, as much as years before diagnosis.
Considerations
All of the symptoms can be caused by other illnesses or conditions. Your physician can perform various tests to make an accurate diagnosis.