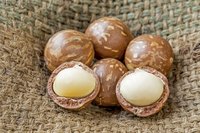 In moderation, macadamia nuts can be part of a healthy, balanced diet. They're a rich source of essential nutrients, but their high calorie content -- 204 calories in a 1-ounce serving, or about 10 to 12 nuts -- means you need to control your intake to avoid weight gain. For the maximum benefit, use small amounts as a substitute for foods with a high number of empty calories from excess fat or sugar.
Rich in Heart-Healthy Monousaturated Fats
Over 90 percent of the calories in macadamia nuts come from fat. A 1-ounce serving of dry-roasted or raw macadamia nuts contains about 21 grams of fat, with the bulk of this amount -- 17 grams -- contributed by monounsaturated fat. Macadamia nuts contain around 3 grams of saturated fat, nearly 19 percent of the saturated fat a healthy adult on a 2,000-calorie diet should limit herself to daily. Although the saturated fat content is high, the monounsaturated fats in macadamia nuts may help decrease your risk of heart disease and stroke if the rest of your diet is low in saturated and trans fats. As a plant-based food, macadamia nuts don't contain any cholesterol.
Supplies Protein and Fiber
Macadamia nuts don't supply more than 10 percent of the recommended daily allowance of protein or fiber for healthy adults, but what they do provide might improve your health. Each 1-ounce serving of the dry-roasted or raw nuts contains 2 grams of protein. A study published in the "Archives of Internal Medicine" in 2012 reported that the more of your daily protein you obtain from plant-based foods like macadamia nuts and the less from red or processed meats, the less your risk of dying from chronic conditions like cancer or heart disease.
Each ounce of macadamia nuts also supplies 4 grams of carbohydrates, 2 of which are fiber. A diet rich in fiber helps prevent diabetes, obesity, high blood pressure, stroke, elevated cholesterol and digestive disorders.
High in B Vitamins
Men should have 1.2 milligrams of thiamin each day, while women need 1.1 milligrams. Dry-roasted and raw macadamia nuts are both high in thiamin, but raw varieties contain more per serving. Each ounce fulfills 28 percent of a man's recommended daily allowance and 31 percent of a woman's. An adequate intake of thiamin may support eye health and prevent cataracts. Both supply other B vitamins such as vitamin B-6, riboflavin, niacin, pantothenic acid and folate, all of which work together to aid in energy metabolism.
Excellent Source of Manganese
Raw macadamia nuts have almost 1.2 milligrams of manganese in every ounce. That's enough to supply a man with 52 percent of his required daily intake of the mineral and a woman with 67 percent of hers. As many as 37 percent of Americans may not consume enough manganese regularly, possibly increasing their risk of osteoporosis or arthritis. The raw nuts contain over 20 percent of the RDA of copper for adults, as well as 13 percent of a man's iron needs and 6 percent of a woman's.
Dry-roasted macadamia nuts supply these minerals too, but they offer less per ounce compared to raw nuts.