Static cling can be an irritating problem, especially when you are in a hurry to get out the door. Unnoticed socks sticking to pant-legs, skirts clinging to legs -- static cling can get to the best of us. But getting rid of it can cause problems, too. Fabric softeners and dryer sheets can decrease the life of your clothes. Understanding the causes of static cling can help you find a method of dealing with it that works with your life and budget.
History
Static electricity was discovered by Thales of Miletus (640-546 BC). He realized that rubbing a piece of amber with a piece of wool caused the amber to attract small objects -- it became magnetic. The Greek word for amber is "electron." It was many centuries until this was fully understood to be the source of static cling. Today, the cause of static cling is called the "triboelectric effect," which is derived from the Greek word "tribos," or "rubbing."
The Facts
The triboelectric effect occurs when some materials come into contact with each other and become electrically charged. Certain materials are particularly conducive to creating static electricity, the amount of which depends on the particular qualities of those materials (e.g., roughness and size). Because rubbing the two materials together increases the number of times the two surfaces make contact, it leads to the creation of more static electricity.
Types of Materials
Some materials are more likely to become positively charged (give up electrons), and some materials are more likely to become negatively charged (gain electrons). The "tribolectric series" is a ranked list of these materials, from positive to negative. Static electricity is caused when two materials from different sides of the list come into contact. The further apart they are on the list, the more likely they are to cause each other to have a charge imbalance, which is what static electricity is.
Effects
Static cling is most often seen in clothes after they come out of a dryer. Since they have been tumbling in a dry environment for a long time, they have a charge imbalance due to the triboelectric effect. This can be an annoying problem to solve. Fabric softeners can alleviate the problems of static cling by coating the clothes with a light, waxy substance that inhibits static electrical charge, but the buildup of waxy residue can decrease the life of the clothes.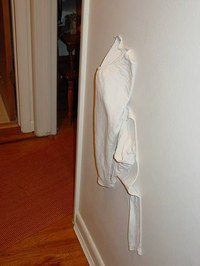 Prevention/Solution
Because static cling is a charge imbalance caused by the low humidity and tumbling of a dryer, anything that helps the charge imbalance to disperse will stop the static cling. For example, spraying the clothes lightly with water will allow the charge to disperse, ending the static cling. Also, using dryer sheets or fabric softener will decrease the buildup of static electricity. However, the only surefire way to end static cling is to allow your clothes to air-dry.