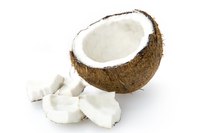 With its pleasant crunch and natural sweetness, fresh coconut adds texture and flavor to a healthy diet. While it's high in calories -- a 2-inch-by-2-inch piece has about 160 calories -- coconut meat also has lots of nutritional value, and it's an especially rich source of healthy fats and beneficial minerals.
Potentially Heart-Healthy Fats
Most of coconut meat's calories come from fat. The 15 grams of total fat in a serving of coconut account for about 85 percent of its total calories. And while most of that fat -- a little over 13 grams -- is saturated, which isn't normally good for your heart, the saturated fatty acids in coconut actually benefit your cholesterol levels. The fats in coconut meat increase high-density lipoprotein, or HDL -- a form of cholesterol that benefits your cardiovascular health. It's still not known whether eating coconut meat actually reduces your risk of heart disease, however.
Beneficial Fiber
Coconut meat also offers cardiovascular benefits because it's high in fiber -- each serving of fresh coconut meat offers 4 grams, which is 16 percent of the daily value. Foods high in fiber can help lower your cholesterol levels because fiber can bind to cholesterol in your digestive tract and flush it out of your system. Fiber might also help with weight control -- it's not a source of calories like other carbohydrates but still helps you feel full -- and promotes digestive health by fighting constipation.
Beneficial Minerals
Coconut meat also serves as a source of minerals. It's particularly high in essential manganese and copper, which activate antioxidant enzymes needed to protect your cells from damage. Copper's also involved in making elastin and collagen, two proteins that strengthen your tissues, and copper also plays a role in energy production. Manganese promotes healthy bone development, and it helps you process carbohydrates and proteins. A serving of raw coconut meat provides 10 percent of the DV for copper and 34 percent for manganese.
Eating More Coconut Meat
Enjoy coconut meat on its own as a high-energy snack -- just chop into bite-size pieces and go. The meat's subtle flavor also works well as an unexpected addition to fruit salads -- it's especially good paired with mixed berries or with chopped pineapple and papaya. If you're feeling more adventurous, try blending chopped coconut meat together with frozen pureed acai, a few handfuls of baby spinach and a splash of unsweetened almond milk for a tropical-flavored, nutrient-dense smoothie.