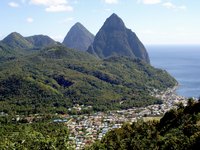 Sandwiched between Martinique and St. Vincent in the Windward Islands, 238-square-mile St. Lucia has garnered a reputation as a romantic tropical getaway. In fact, the island was named the world's leading honeymoon destination in the World Travel Awards. Striking natural landmarks and a rich local culture are just some of St. Lucia's most seductive features.
Dramatic Features
From the south coast fishing port of Soufriere, St. Lucia's oldest town, to the capital Castries, the distinctive Piton Mountains dominate the landscape. Gros and Petit Piton, part of the island's only UNESCO World Heritage site, loom over the coastline at 2,421 and 2,283 feet respectively. Guided hikes lead through the forest to Gros Piton. Alternatively, visitors can take a leisurely drive to nearby Mount Soufriere and enjoy the only drive-in volcano in the world, a landscape of bubbling mud pools and sulfurous vents.
Rich Culture
Although English is the official language of St. Lucia, French and French-influenced Creole are widely spoken. Having changed hands between the British and the French 14 times in its history, the island retains a curious blend of several cultural influences. Local cultural titans include economist Arthur Lewis and poet Derek Walcott, both Nobel Prize winners. In fact, only the Faroe Islands has a higher rate of Nobel Prize winners per capita. In 2014, St. Lucia found a different type of audience as the location for a series of "The Bachelor." While tuxedos and evening gowns are de rigueur in the handful of luxury resorts, it is illegal to wear camouflage clothing on the island.