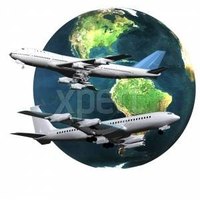 A first-time trip on an international flight can be exciting and create anxiety at the same time. Yet, millions of passengers fly daily on thousands of planes, many of them on international flights. The key to enjoying an international flight is doing your homework before driving to the airport. In other words, be prepared. Know what to pack as well as what to leave behind. And know what documents to have on you, ready to show when requested.
Identification
International flights are those that cross over the borders of different countries. An international flight may be a long flight from Orlando, Florida to Tokyo, Japan, or a quick jaunt from Boston's Logan Airport to Jean Lesage International Airport in Quebec, Canada.
Preparations
Secure all your travel documents. Be sure to keep your passport or visa and photo ID on your person, where it's easy to find and show to authorities. While planning your trip, check the website of your destination country to get information regarding currency, health concerns and other important topics. Call the airlines ahead of time. International flights usually require more time for boarding, so ask how much time you need to get to the airport before the plane departs. Be aware of items that are prohibited at the foreign airport. Because security is tighter at international airports, many items allowed at your airport may be banned there. Getting these details before packing will prevent you from bringing items you'd have to forfeit. Go online and print a map of the foreign airport so you know where to go when you get off the plane. Familiarize yourself with screening methods before leaving.
Airline Drinks, Snacks and Meals
As most international flights last more than three hours, your airline must serve you a meal, in addition to drinks and snacks. Exactly which meal to expect can be confusing, however. For example, an overnight flight typically serves breakfast at midnight.
Tips for Going Through Customs
Unlike domestic flights, international flights require you to go through Customs before boarding. You'll have to remember anything you've either purchased or been given on your international trip and declare its value. For example, some things won't be allowed into the United States that are allowed in foreign countries, such as food, plants and foreign soil. Besides all items bought or given to you, you must also declare any items inherited on your trip, repairs you made and anything you intend to sell or use for future business purposes. Be patient with the requests of authorities. Turn of cell phones, radios and CD players. Have nothing on you that could be used as a weapon, as this will waste time, require paperwork and raise the likelihood of missing your flight.
Tips for Coping With Jet Lag
Usually, international flights cross over several time zones, so you'll have to cope with jet lag and lost sleep. Plan to get to your destination a day early so you can rest if joining a tour group. This also is a good preventative measure in case bad weather delays your flight. Choose water over caffeinated beverages during your flight to reduce dehydration, which intensifies with jet lag. Nap on the plane as much as possible. Overnight flights usually supply a pillow and blanket, so do the best you can to get some sleep. Give yourself time to adjust to the new time zone; don't cram too much into that first day.
Warning
The people who work in Customs have no sense of humor when it comes to jokes about weapons, terrorism or drugs. By joking about such things, you run the risk of staying in the foreign country longer than anticipated.