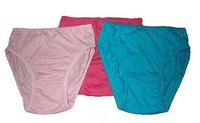 If someone has ever teased you about wearing "granny panties," they are making fun of those bulky, oversized panties that most people hope will never see the light of day when they wear them. These undergarments are the opposite of sexy and are generally a turnoff when seen by the opposite sex. However, these geriatric-like undergarments are secretly loved because of how comfortable they are. Read on to find out more about granny panties.
Time Frame: When to Wear Granny Panties
There's a time and a place to wear granny panties, and it isn't at the club, on a date, or during a nightcap with a beau. If you're going to wear granny panties at all, wear them in private, such as to bed (alone) or when you need to feel the most comfortable, i.e., during that certain time of the month. Granny panties can be exposed very easily and can cause embarassment when they are.
Benefits of Wearing Granny Panties
While granny panties may not be the most attractive choice in undergarments, they are quite comfy. When a woman is curling up and reading a book or having a lazy day and watching television, granny panties can be convenient as well. Because these panties tend to be big, they don't ride up, they provide full coverage for the butt and they work great with sweatpants.
Identifying Granny Panties
Granny panties got their name because they look like panties that a grandmother would wear. If you're wondering if you own any underwear that can be classified as "granny panties," go take a look in your drawer and pull out the biggest pair of underwear you have. If it has a high waistline and elastic waistband, if it rises so high that it either covers the belly button or stops right below it, and if it also fully covers the derriere, you've got a pair of granny panties. Not one inch of butt is exposed when a woman is wearing granny panties.
Clothes to Wear with Granny Panties
Granny panties can have dire effects underneath a sleek cocktail dress, tight pants and jeans and low-rise skirts. However, this type of underwear can be worn with loose workout clothes, loose-fitting dresses, leggings (when worn with a long top), and loose-fitting skirts. As a general rule, granny panties will work with all clothes that don't hug the butt and thighs or ride up high.
Other Undergarment Options
Thongs and g-strings work well with tight-fitting dresses and clothes that can reveal panty lines, and bikini, seamless and low-rise underwear work well with jeans when a woman is wearing a short top or a top that reveals the midriff. These should be chosen over a granny panty to provide the most flattering look in clothes.