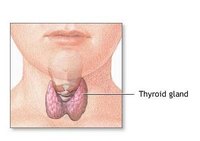 Those with disorders of the thyroid are unlikely to be able to totally cure or control their condition with natural treatments. However, many natural treatments can be used in conjunction with traditional medical treatment and prescriptions. Natural thyroid treatments can range from herbs and vitamins to dietary and lifestyle changes.
Identification
The most common thyroid disorders are hyperthyroidism, hypothyroidism and thyroid cancer. When someone is hyperthyroid, her thyroid--a gland in the neck--overproduces the thyroid hormone that helps regulate the body's metabolism. Symptoms can include rapid weight loss, heart palpitations and insomnia. When someone is hypothyroid, her thyroid is sluggish and does not produce enough of this hormone. Symptoms of hypothyroidism include weight gain, fatigue, brittle hair and nails and intolerance to cold. Early stages of thyroid cancer often do not have any symptoms. However, in later stages, a patient may experience hoarseness, difficulty breathing, swollen lymph nodes or pain in the neck and throat.
Types
Though a traditional medical approach such as surgery, radiation or chemotherapy is the first-line treatment, natural treatments may be good additions to help treat thyroid cancer. Natural treatments may include improving the diet or taking up meditation or yoga. For hyperthyroidism, the traditional treatment includes drug therapy or radiation to kill off the overactivity of the thyroid. While hyperthyroid conditions usually can't be cured or treated exclusively with diet, exercise, herbs or other natural remedies, natural treatments can play a valuable supplemental role. For instance, eliminating caffeine and nicotine and taking up tai chi or meditation are sometimes recommended. For hypothyroid patients, the most common treatment is with replacement hormones. This can either be synthetic pills or natural hormones derived from pig thyroid. Doctors often prefer synthetic hormones because it's easier to keep dosages consistent, but some patients say they feel better on the natural thyroid replacement pills (common brand name Armour). Some hypothyroid sufferers also get benefits from regular exercise and from dietary changes. These dietary changes can include avoiding raw broccoli and other cruciferous vegetables and excessive consumption of soy products. Dietary supplements such as selenium, zinc and vitamin D are sometimes recommended for hypothyroid patients as well.
Effects
Meditation and gentle exercise can help with the stress of a cancer diagnosis and can be soothing to hyperthyroid patients. Hyperthyroid patients also can get some relief from eliminating stimulants such as caffeine and nicotine because a hyperthyroid patient's metabolism is already overactive. Regular exercise may help maintain a higher metabolic rate for hypothyroid patients. Avoiding certain foods can also be a good natural treatment for hypothyroid patients. Consumption of cruciferous vegetables, especially raw, and excessive consumption of soy are thought by some to interfere with thyroid function or to interfere with absorption of thyroid replacement therapy. Dietary supplements of vitamins, minerals and essential fatty acids are thought to help control hypothyroid symptoms in some patients. For instance, selenium helps the body convert the slow-acting T4 thyroid hormone to the more quick-acting T3 hormone. Omega-3 fatty acids, found in many kinds of fish or in supplement form, may combat depression and improve energy levels.
Misconceptions
Though thyroid replacement therapies like Armour thyroid are made from thyroid hormone that occurs naturally in pigs, it isn't necessarily more "natural" for human consumption than synthetic thyroid hormone. Armour thyroid pills contain T3 and T4 hormones in ratios that are natural for pigs but not identical to the ratios found in humans. Synthetic hormone replacement (generic name levothyroxine) pills usually contain T4 only and are made to be bio-identical with the T4 hormones produced by the human body. Some advocates of "natural" thyroid hormone point out that synthetic thyroid hormone pills may produce adverse effects because of fillers and binders included in the pills. However, "natural" thyroid pills from desiccated pig thyroid also contain binder ingredients.
Warning
Anyone using dietary supplements or herbs to treat a thyroid condition should let his doctor know what is being consumed. Some herbs or supplements may interfere with traditional medical treatments. For instance, taking a vitamin pill high in iron or calcium at the same time as thyroid replacement hormone pills may interfere with the absorption of the hormones. Also, not all vitamins and minerals are harmless. Taking excessive amounts of selenium, for instance, can result in selenium poisoning, with symptoms including loss of nails or hair, skin discoloration and listlessness.