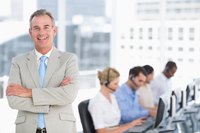 Employee engagement, …namely, psychological and social fulfillment at work, leads to high levels of employee commitment and passion. Constructing a high-performance environment in which employees are engaged, however, is no easy task. It requires many things, not the least of which is respected and successful managers who possess particular skills, including the ability to communicate effectively.
Communicate Effectively
A manager can make a difference, not just by completing assigned tasks, but also in the state of his team, his department and his company, by engaging in effective communication. As Victor Lipman writes in the Forbes article, "How To Predict Managerial Success: 4 Key Qualities To Consider," when it comes to praise for an employee or when corrective action is needed, open and honest communication is required. When a manager communicates clearly, it's more likely direct reports will understand and accept the tangible objectives a manager sets and the expectations he holds. Otherwise, rather than perceiving department goals as ambitious, workers may perceive goals to be unrealistic, which can have a negative effect on team performance.
Respond Diplomatically
Managers interact with representatives of different departments and organizations, each of whom has his own agenda. Consequently, it's important for a manager to relate to the personal interests of his superiors, his direct reports and others with a vested interest in the work of a team. When he does so, the manager is better able to find balance among differing priorities and respond to sometimes contradictory requests in a rational and diplomatic way. If, instead, a manager chooses to attempt to satisfy some at the cost of others, such as his direct reports, he may lose the support of some or all of those on whom his success depends.
Manage Conflict Appropriately
When conflict or unreasonable demands can't be avoided, it's important to deal them in a reasonable way. Doing so not only maintains the loyalty of a manager's direct reports but also earns the respect of other managers and business partners. When addressing multiple different and sometimes conflicting demands, however, a manager must avoid handling situations with a heavy hand. By using a balanced approach, he best ensures employees will respect him, rather than fear him, and support, rather than ignore his requests.
Promote Teamwork
Managers can play a unique role in creating a culture that promotes teamwork and collaboration, while supporting friendly competition that motivates team members to achieve great things. For example, if a manager consistently takes action to address the needs of individual team members as well as the whole, he has the ability to convert moments of individual duress to team successes. Managers can also contribute to a team culture of mutual support by working to earn the trust of colleagues and subordinates. When successful, the manager contributes to a more unified team that's willing to collaborate among themselves and other organizations to accomplish goals.