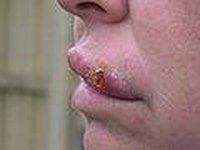 When you feel a cold sore coming on, the first thing you think of is how to get rid of it before it gets worse. With the right medicine it is possible to clear it up quickly no matter how bad it is. There are also very simple home remedies that can work just as well.
Prescription Strength
Zovirax and Abreva are the most popular cold sore medications. Zovirax can only be obtained with a prescription. Abreva can be bought over the counter. Some people have received good results with Abreva and some have not. Zovirax has a greater effectiveness. Whether it is used early or later when blisters are full-blown, it delivers it's virus killing power and cold sores are usually gone within one to two days.

Lysine
Lysine is one remedy of getting rid of cold sores. One study in a Southern California University looked at the effectiveness of lysine on cold sores. In this study 30 people used an ointment with lysine. Forty percent of the people's cold sores cleared up by day four. 87 percent were cleared up by day six.

Lemons
Lemons are very effective on cold sores. Apply a slice of lemon directly on the cold sore in the beginning stages. You'll identify what the beginning stages are by the itchy feeling you'll get in your lips. In addition to directly applying the lemon there are other ways to use the lemon on the cold sores. Sipping on lemon juice is throughout the day is very helpful, too. Make sure to mix it with water.

Garlic
Here's one more reason to use garlic in your diet. Garlic is actually a form of antibiotic. It has the power to kill herpes viruses. By taking 900 milligrams of garlic extract supplement daily you will stop the outbreaks of herpes cold sores.

Ice
Another simple remedy for cold sores is applying ice to the infected area. Not only is it soothing it also prevents the spread of the virus. The cold sore virus, like most virus flourish in warm moist places, so keeping the area cold by putting ice on it keeps the cold sore from growing.