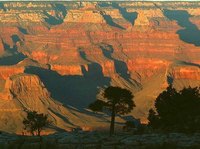 The Grand Canyon is one of the most spectacular gorges in the entire world. Carved into the earth by the Colorado River over a period of more than 5 million years, this natural marvel is located in the state of Arizona. Today, it is one of the most visited natural wonders in the United States.
History
Prior to becoming the tourist attraction it is in modern times, the Pueblo people inhabited the Grand Canyon area. Building camps within the canyon for shelter against the harsh elements, these Native Americans survived the rugged terrains for hundreds of years. In the mid-1500s, Spaniard Garcia Lopez de Cardenas was the first European to visit the area.
Size
Stretching nearly 300 miles across the state of Arizona, the Grand Canyon has many waterways, hills, plateaus and other natural formations. The depth of the canyon surpasses 1 mile in some parts, while the width varies from 4 to almost 20 miles. The entire canyon is located within the Grand Canyon National Park.
Geography
Most of the canyon's terrain is rocky, steep and quite hazardous. Loose rocks and pebbles are prevalent, even on the most worn trails. The temperatures can reach unexpected extremes in short periods of time and those temperatures are often even more intolerable due to the dry air.
Types
For those wishing to venture through the Grand Canyon, many types of trails are available. Choosing a trail is made simpler due to a rating system that grades each trail based on distance, difficulty and other factors. For example, the Bright Angel Trail and the South Kaibab Trail both grade out as optimal for families with small children due to the short distance and the ease of the terrain. Many other trails are available for those who want a more difficult and adventurous trek. Guided tours are offered through companies such as Arizona Canyon Tours, Angel's Gate Tours, Vaughan's Southwest Custom Tours and Pygmy Guides LLC. Hikes, day tours and transportation around the canyon are services generally offered by tour companies in the area.
Significance
The importance of the Grand Canyon to the niche businesses in the area cannot be understated. With thousands of visitors on a nearly continuous basis, millions of tourist dollars are spent each year. These niche businesses include tour guide companies, themed hotels, specialized antique shops and many more. Beyond the economic significance of the Grand Canyon, this area also is home to a unique natural ecosystem that contains many different species of fauna and flora.