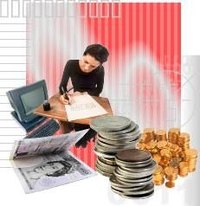 Trading accounts at traditional brokerages and online brokerages can be typically used to purchase securities in all kinds of asset classes. These accounts hold cash like a conventional bank account and can be in turn used to trade stocks, bonds, foreign currencies, mutual funds and more. Most traders have different specialized accounts--occasionally for organizational purposes, but often for specialized tax treatment as well.
Types
A typical 401(k) or Roth IRA would be examples of common trading accounts, although most people would refer to them as retirement accounts instead. A 509 education savings plan is another type of trading account. Trading accounts are typically denominated in a single currency. Foreign exchange trading accounts, however, can hold multiple different types of currency for trading in one organized package.
Identification
Margin accounts provide access to credit for use in securities purchases. Options accounts allow the trader to buy and sell stock options. The majority of accounts are called "cash" accounts, and can hold most kinds of securities along with money--aside from stock options, which do require a special kind of account required by law.
Function
Most brokerage firms and others require a minimum amount in the trading account before they consent to opening one. This can be as low as $500, but most such accounts look for more than $5,000. Many such accounts do provide a low savings interest rate on their accounts as well, although the rates are typically not as competitive as those offered by most banks.
Features
Another type of trading account would be opened up at a mutual fund firm. In such cases, the mutual fund company itself will offer an account directly with the mutual fund. This account won't behave like a typical trading account in that the person who holds it will not be actively managing the money--instead, they put the money with a particular fund and the fund managers handle where the money goes. Withdrawals in such a situation are typically limited, especially when it is in a special tax advantaged account, such as an IRA.
Considerations
In order to trade stocks and other securities in a particular market, it is generally legally required to have a trading account with a licensed broker in that country. Traditional stock brokers will often manage a portfolio for their client themselves. In other cases, a financial adviser or fiduciary will be contracted on behalf of the client to manage the trading accounts on their behalf. Taxes must be paid on capital gains made from stock trading. Trading accounts can be seized or frozen by creditors attempting to collect funds.
Benefits
Using the right type of trading account for a particular purpose reduces tax exposure and increases overall returns. It also aids in the practice of asset diversification, which has a beneficial effect on financial security. Using different accounts for different life purposes--a retirement account to provide for elderly years, an education account to pay for teaching children, a growth account to provide a higher standard of living--streamlines the financial planning process.