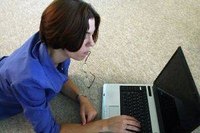 The ultimate dream job for many would be to work at home. With technological advances, the vision of telecommuting and working from home from a computer is becoming a reality. Many corporations are saving money by outsourcing employees in certain departments, especially writers, transcriptionists, web developers and data entry clerks. For freelancers, or those that work from home on their computer, they can choose their own hours and where they want to work.
Writer
Someone who has an education in Journalism, English or Creative Writing can use their degree and experience to work at home on their computer. Initially, establishing their career in print through magazines and newspapers are impressive points to showcase on a resume. Many freelance writers who contribute to local media circuits or newspapers may also be reporters. Finding leads, taking photos, conducting interviews and reporting the data back to the main media hub are characteristics of a writer. Many writers and reporters have their own columns in a newspaper or magazine in which most of the work can be completed from home before submitting for final revision. Breaking into the online writing circuit is where a great deal of freelance work can be found. A laptop or desktop computer is used as a writing tool to create and distribute articles and projects. Completed projects may be turned in through an Internet connection or by mail.
Copy Editor
A freelance copy editor can work from a home office with the aid of their computer and word processing software. Stay at home copy editors may access data, spreadsheets and documents via an online software system. Copy editors proofread writer's data, make necessary corrections and provide feedback to the writer via an Internet connection through their computer. Editors also develop ideas and stories that they want writers to write. Contributing editors contribute frequently to editorial columns, while an Editor-at-Large completes special journalism projects.
Web Developer
Web developers work at developing, maintaining and improving a website or computer program. This is the perfect stay at home computer job for those experienced with web development. All of the work can be done through email, via the Internet and also on the developer's computer in the home office. Websites and data are accessed through secure servers via an Internet connection. Many web developers are self-employed or independent contractors while others telecommute for several days out of the month.
Data Entry Clerk
Data entry clerks gather raw data, proofread, make corrections then enter the information into a computer software program. Finding a prosperous data entry job from home can be challenging as most are done in-house. Large corporations often have data projects that need to be outsourced due to cost control, limited staff or lack of business space. Some employers routinely need data entry work done and prefer to outsource to save time and money spent on employing a full-time staff. Temporary agencies are a great way to get started in finding a data entry work at home job. Contacting area businesses is also a resource in which to find employers who are looking to outsource their data to save money. Working from home on the computer proves to be both cost and time efficient. Clerks who conduct their work from home on their own computer have fewer interruptions and are able to concentrate more on their work than someone in a busy office.
Medical Transcriptionist
There are many medical transcriptionists who work from home. While there are hundreds of advertisements offering medical transcription work for those with no experience, many of these prove to be false advertisements or scams. Working at home as a medical transcriptionist requires training and experience. A general medical background is strongly recommended before pursuing this field. Legitimate companies typically only hire home workers who have certifications in medical transcribing including a minimum of two years' experience. Transcribing involves using a dictation machine, headphones, a pedal and a computer. Extensive knowledge of medical terminology is required to complete the job. Being able to produce high quality work, quickly and accurately are basic essentials of the job. Typing speeds of at least 70 WPM is generally a minimum requirement.