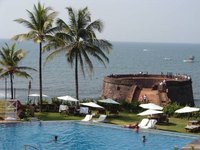 The vast majority of adult-only resorts cater to adult travelers who want to enjoy a few days or weeks without any children around---neither their own, nor anyone else's. These vacation venues cater their offerings, programs and amenities specifically to the adult demographic, providing for an extraordinary vacation experience that those with children might not have enjoyed for a while. Read on to learn how to find the right adult-only resorts for your travel needs.
Advantages
Adult-only vacationers do not have to share any of the amenities with children. There are no used diapers or empty juice boxes---or the sounds usually associated with vacationing children. Couples on their honeymoon, older travelers, nudists and parents who want to get away from their own children usually make up the travelers who seek out adult-only resorts.
Features
Adult only resorts generally offer package deals that include not only the stay but also a number of activities, meals and amenities. For example, the El Dorado Seaside Suites in the Mexican Caribbean (see resources) offers an inclusive deal that features the room, all meals and snacks from any eatery located on the property, all beverages, activities, kayak or snorkeling gear and scuba training. For additional payment, guests may participate in a deep sea fishing or scuba adventure, access the Internet, rent a car, have their laundry done or visit the spa. Costs vary by season and by single, double or triple occupancy.
Considerations
Check with the resort for what they consider "adult." For example, the El Dorado considers an adult to be a person who can legally enter into a contract, so their version of an adult is an 18-year-old individual. Because this coincides with the legal drinking age, be prepared to find 18-year-olds at the bar. American adult-only resorts that serve alcohol usually restrict the adult age to 21-year-olds. Moreover, in some cases, a resort may feature adult-only activities but not overall limit the stay of kids on the property. Ask about the venue's adult-only policy prior to booking---if it is not clearly stated on its website---to avoid unpleasant surprises.
Misconceptions
It is a common misconception that the term "adult oriented," when used in a resort's brochure, actually refers to an adult-only resort. For example, the Bucuti Resort on Aruba (see resources)---winner of the 2009 Traveler's Choice Award---strongly urges interested families to opt for another resort that features children's activities, but it does not nix the idea of underage travelers. It does restrict the number of registered children to one per room, but if you are looking for a child-free experience, you will not find it there.
See a Travel Agent
Unless you already have a resort in mind, locate a travel agent who specializes in booking adult-only resort travel packages. She will know where to go, what the minimum ages are and also how to plan a trip within your budget. For example, Child Free Travel (see resources) has working relationships with some of the big names in the industry, such as Sandals, and can help you get your travel arrangements taken care of.