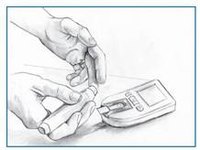 If you have or are at risk for diabetes, then you need to measure your blood sugar levels on a regular basis. This is the primary way you can tell if you have diabetes, and how well it is being controlled through lifestyle habits and/or medication. If you have been diagnosed with diabetes, in order to fully manage your condition, you must test your blood sugar levels and understand what the numbers mean.
Identification
When you take a blood sugar measurement you are testing the level of sugar, or glucose, that is present in your blood. This tells you how well your body is processing sugar. Glucose is produced when your body breaks down carbohydrates. Glucose is your body's main source of energy. To help your body utilize available glucose, a hormone called insulin is necessary. The main job of insulin is to stop the levels of glucose from getting too high in the blood. Insulin binds the glucose to the cells so it can be used for energy. This is important as too high of a level of glucose can cause serious health problems and lead to damage to your eyes, kidneys, nerves and blood vessels.
Types
You can take fasting blood sugar measurements or do a random test. A fasting blood sugar test shows how much glucose is in your blood after 8 hours of fasting. A random blood sugar test can be done at any time during the day. An oral glucose tolerance test is also available that determines how your body reacts to sugar. It is administered after you receive a fasting blood glucose test. Once that level is recorded you will drink a sugary solution. Your blood sugar level is then measured 1 hour later and then 2 hours later to determine how well your body is processing glucose.
Levels
A normal reading for a fasting blood sugar test is between 70 to 100 milligrams of glucose per deciliter of blood (mg/dL). A level that reaches between 100 and 125 mg/dL suggests pre-diabetes. A reading over 126 mg/dL means that you could have diabetes. To make sure your diagnosis is accurate the test will be repeated again on a different day. If you test high on both tests after fasting, your doctor may diagnose you with diabetes. With a random blood sugar test as well as an oral glucose tolerance test, a level over 200 mg/dL may suggest diabetes.
Considerations
Testing your blood sugar levels can also determine if you have hypoglycemia, which is when blood glucose is at too low of a level. In this situation there is more insulin than glucose in the blood. This condition can occur if you take too much insulin or skip meals. Symptoms of hypoglycemia include headaches, sweating, anxiety and mood swings. If it is left untreated, it can lead to seizures, unconsciousness, brain damage or death. If you are experiencing hypoglycemia eat a sugary food or drink a sugary liquid immediately.
Equipment
Testing your blood sugar regularly allows you to control your diabetes. If you have a high or low reading you can take the necessary steps to correct the imbalance before more serious complications occur. The most common way to test your blood sugar level is to use a home meter. This involves pricking your finger or other site, and placing a drop of blood on a test strip. (Meters that use your finger as the site tend to be more accurate.) This strip is then inserted into the meter, which calculates your glucose reading. These meters range widely in price, size and features. They can be very basic, have large displays or can "speak" to you if you can't see well. Some meters come with software to allow you to track your readings over time. Newer options include using lasers to prick the skin to draw blood as well as a watch that uses low electrical impulses to test your levels. Both of these options reduce pain associated with the finger prick. To date these newer devices are approved by the FDA, but they should not replace the traditional finger prick method.