Kelp and alfalfa are both vegetables, but with a big difference: Kelp is a sea algae, and alfalfa is a legume. Kelp is known as a source of iodine, while alfalfa contains phytochemicals that may lower cholesterol. Beyond these differences, they share two things in common. They're both good sources of vitamin K, and each one contains ingredients that can interact with medications or medical conditions.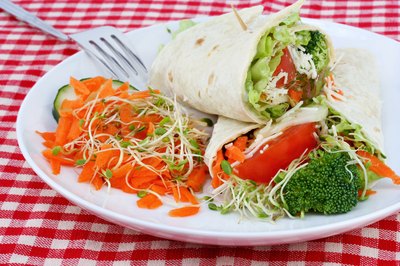 Sources of Vitamin K
Vitamin K is used to make a variety of proteins, which perform several vital jobs. Some vitamin K-dependent proteins make your blood clot, while others support the health of your brain by metabolizing lipids. You also need vitamin K to regulate bone growth and maintain bone density, according to the Linus Pauling Institute. A 1-ounce serving of alfalfa sprouts, which is about 1 cup, provides 11 percent of the daily value for vitamin K, based on consuming 2,000 calories daily. You'll get double that amount from 1 ounce, or about 3 tablespoons, of raw kelp.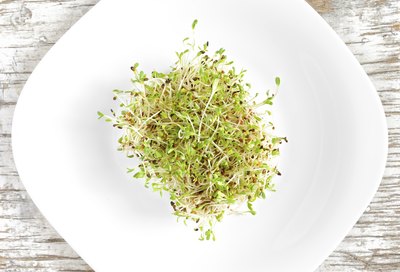 Nutrients in Kelp
Fresh kelp is a good source of folate, which is essential for protein metabolism and synthesizing DNA. One ounce of raw kelp supplies 13 percent of the daily value, reports NutritionValue.org. Check the label on dried or supplemental forms because they'll contain a different amount. Kelp absorbs iodine from sea water, but be aware that the amount of iodine varies a lot from one source to the next. While your thyroid gland needs iodine to make hormones, consuming more than 1.1 milligrams of iodine daily may lead to thyroid disease, according to the Linus Pauling Institute.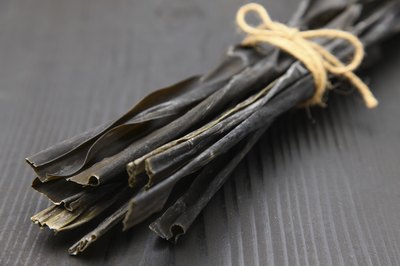 Alfalfa May Lower Cholesterol
Alfalfa contains saponins, chemicals naturally produced by the plant that may help lower cholesterol. When laboratory rabbits were fed diets supplemented with alfalfa, their bad cholesterol went down slightly, while their levels of good cholesterol significantly increased, according to a study published in the "Pakistani Journal of Pharmaceutical Sciences" in October 2008. Another study found that saponins extracted from alfalfa lowered total cholesterol in laboratory rats, reported researchers in "PLoS One" in February 2014. Studies using people are needed to determine alfalfa's potential to reduce cholesterol in humans, however.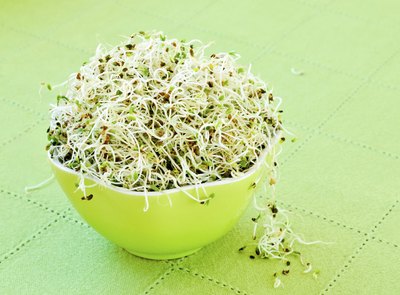 Health Warnings
Alfalfa contains substances similar to estrogen, so women who are pregnant or nursing should not consume it. You should also avoid it if you have breast cancer, ovarian cancer or any medical condition affected by estrogen, advises MedlinePlus. An amino acid found in alfalfa, L-cavanine, can cause an enlarged spleen and trigger a recurrence of the autoimmune disease lupus in patients diagnosed with the condition. Consult your health care provider before eating alfalfa or kelp if you take medications to prevent blood clots, such as warfarin. The dose you need is based on the amount of vitamin K in your diet. Suddenly consuming more vitamin K interferes with the medicine's ability to work properly, reports the National Institutes of Health Clinical Center.