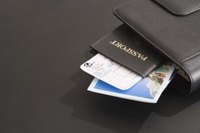 The Department of Foreign Affairs, or DFA, was the first governmental agency created in the new republic of the Philippines in 1898. The DFA oversees citizen and consular services, including the issuance of passports. Because of the importance of national security, many regulations must be strictly adhered to. Renewal policies differ depending on when the passport was issued, as well as in certain special situations. It is important to verify all specifications before applying for renewal.
Personal Appearances
A personal appearance is required for all passport renewals. These appearances take place at the DFA office in Manila. Hours for appearances are: Monday through Friday from 8:30 a.m. to 11 a.m. and 1 p.m. to 3 p.m., and on Saturday from 8:30 a.m. to 10 a.m.
Supporting Documents
As with any government application, it is critical to provide the proper documents. Passport renewals require at least one supporting document. A supporting document can be any of the following: driver's license; land title; marriage contract; PRC/IBP ID; school transcript; government service record; old or digital SSS-E1 form; old income tax return; baptismal record; voter registration record; seaman's book; or any document that states the full name and birth information for the applicant. You can contact the DFA with any specific questions regarding the documents that are needed for your situation.
Brown Passport (Issued Before May 1, 1995)
For passports that were issued before May 1, 1995 (known as brown passports), applicants should bring their existing passport along with copies of pages 1 to 3. It is also necessary to bring the pages with the most recent departure and arrival stamps. Applicants should also bring a supporting document that verifies their middle name and original identification, as well as three photos that meet passport requirements. Photo specifics are available from the DFA, and are crucial--a passport renewal application can be rejected if the photos do not meet the requirements.
Green Passport (Issued After May 1, 1995)
Passports issued after May 1, 1995 (referred to as green passports) have virtually the same renewal requirements as those for brown passports. One exception is that passport holders need to bring their existing green passport rather than an old brown one. Also, if the passport is for an illegitimate minor, the minor's mother (not the father) must appear in person. For legitimate minors, either parent may appear.
Name Changes
Married women who wish to change to their spouse's surname must provide a marriage contract issued by a certified local civil registrar and a certificate of attendance from the CFO (if the woman's spouse is not a citizen of the Philippines). As with all other renewals, the applicant must appear in person.
Minors (Under 18)
Minors must also appear in person, along with a parent. In cases of illegitimacy or if the minor is aged seven or younger, the mother must be the parent who attends. A copy of the applicant's birth certificate is required, along with the original and photocopied passport of the person who will be accompanying the minor. There are other stipulations for minors in special circumstances (traveling alone, etc.), so check with the DFA to verify the proper procedure.