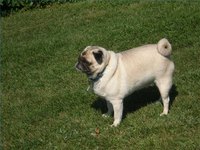 There are three reasons not to buy a pug; they sneeze, snore and shed. There are, however, a million other reasons to buy a pug. They are friendly, comical, loving and a constant companion. Like all pedigreed dogs, they have common medical issues, such as hip problems, overweight issues and pug skin disorders.
Hair
Pugs have two layers of hair. The undercoat is short and keeps the pug warm. The outer coat is longer. The undercoat grows, pushing off the outer coat. The pug sheds a great deal, but it still needs help to remove the hair. Brushing the dog twice a week helps remove the hair and keep it from collecting moisture. Moisture can cause hot spots and skin irritation.
Face
Cleaning the face folds weekly prevents infection similar to human's athlete foot. Along with the complications of the face folds, are the pug's breathing issues. Pugs are prone to allergies from the airborne pollutants; pollen and certain grasses can cause difficulty breathing and skin allergies. According to pughealth.org, there is an increase in environmental allergies among the pug breed causing severe skin irritations.
Other Disorders
Besides environmental allergens, pugs may have a number of allergies from fleas, mites and food. The results are usually itchy skin and skin flaking. Mange is the result of mites. Demodectic mange causes hair loss but no itching. Sarcoptic mange causes intense itching around the ears, legs, chest and abdomen. Hormonal skin diseases are the result of abnormal thyroid gland, adrenal glands, pituitary, testicles or ovaries. The result is hair loss, change in skin color, but no itching. Staph infections are caused by bacteria and result is pimples. Yeast infections occur occasionally after a treatment of antibiotics from staph infection. Skin fold dermatitis can occur due to moisture in the folds of the skin.

Treatments
For allergies, veterinarians prescribe antihistamines, steroids and special shampoos. If there is a food allergy, the veterinarian may prescribe a hypoallergenic diet. Vets treat staph infections with antibiotics and medicated shampoos. For yeast infections, anti-yeast infections and shampoos are prescribed. For mange, vets give an injection of medication and prescribe an ointment. Hormonal disorders are difficult to diagnose and treatment is specific to the condition.
Prevention
For flea allergies, provide flea treatment such as Frontline, which Frontline guarantees as effective. Eliminate fleas in the house by washing all bedding and spraying the area. Avoid exposure to allergens. For food allergies, change the dog's diet. Bathe the dog in medicated shampoos or oatmeal shampoo to soothe irritated skin. Wash the dog's face each day to prevent problems in the skin folds. Brush the coat once a week to eliminate dead hair that holds moisture. Visit the vet regularly for checkups to avoid flare ups and maintain the general health of your dog.