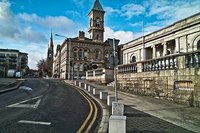 The National Employment Rights Authority (NERA) protects seasonal and full-time workers in Ireland from unfair employment practices. NERA was created to enforce employment laws dictating minimum wages, maternity leave and holiday pay in Ireland. The agency sends out inspectors on a regular basis to make sure that working conditions are meeting national standards. Ireland's employment laws were designed to create better conditions for resident and migrant workers as Ireland expands its role in the European economy. Irish workers can cite the following employee rights to prospective and current employers to head off violations in the future.
Terms of Employment Act of 1994
Irish workers who maintain regular hours and wages with their current employers are technically under employment contracts according to national law. The Terms of Employment Act of 1994 requires certain information to be enunciated in writing by employers and employees to resolve legal disputes more efficiently. The act's provisions require contracts with payment details, employment length and break times for apprentices and temporary workers placed by staffing agencies.
Organization of Working Time Act of 1997
The Irish government requires public and private employers to recognize nine public holidays each year. The Organization of Working Time Act of 1997 lays out the required holiday breaks including St. Patrick's Day, Christmas Day and St. Stephen's Day. This legislation also sets out forms of compensation for lost wages on these days, requiring employers to offer extra pay or paid time off for all nine holidays.
The Parental Leave Act of 1998
The Parental Leave Act of 1998 allows Irish mothers and fathers to take care of their children without fear of losing employment. According to the law, each parent can take up to 14 weeks off each year to take care of injured and chronically ill children. Irish employers are not compelled to cover lost wages and benefits during the leave but cannot permanently fill the position while an employee is away. The Parental Leave Act of 1998 was designed to provide flexibility for professionals with growing families, a nod to efforts throughout Europe for improved family living.
National Minimum Wage Act of 2000
Ireland's National Minimum Wage Act of 2000 set the lowest hourly wage for most workers at 8.63 euros per hour. This legislation covers a broad spectrum of workers ranging from temporary farm workers to full-time retail employees. Employees should look carefully at provisions for "experienced adult workers" in the the minimum wage law. An "experienced adult worker" must be over 18 years old, have worked for at least two years and not be part of a job training program.
Unlawful Discrimination
Ireland prohibits nine types of discrimination in the hiring and evaluation of employees in domestic industries. Irish law forbids the use of gender, family status, marital status, age, disability, race, sexual orientation and religious belief in dealing with employees. The ninth group protected by Irish employee rights is the Travellers, an oft-persecuted group that resides largely within the United Kingdom.