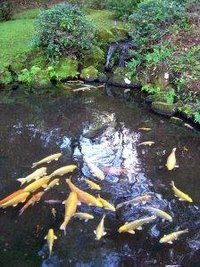 The goldfish pond has its origins in the Tang Dynasty in China, where it was regarded as royalty, offering a sense of power. Today, a decorative goldfish pond can add beauty and style to the backyard of any home. Adding goldfish to a freshwater pond creates a lively centerpiece as well as an observant location to watch the fish grow. If the pond is set up right, the goldfish can prosper all year, even in cold climates.
Pond types
When deciding to add a goldfish pond in the backyard, choosing what type of pond is very important. There are several different types of ponds available for seasonal and year-round ponds. A vinyl liner pond is a versatile method for a goldfish pond. The vinyl liner can be cut, shaped and molded into any type of style. First the area is excavated and then molded to accommodate the liner. PVC liners are another option. Most PVC ponds are pre-fabricated and come in different styles along with different depths. Most offer a tiered edge in which a waterfall can be implemented for a trickling effect. Concrete ponds are hand-crafted, as the concrete provides a solid base that is long-lasting and leak free.
Goldfish types
An important element in establishing a goldfish pond is choosing the type. There are different varieties of goldfish available for outdoor use. The standard goldfish, which can be found at most retail stores and pet stores, is not the right type of goldfish for long-lasting outdoor use. Hardy goldfish varieties such as the Ryukin, Shubunkin and Comet are good varieties that will withstand changing weather patterns. Goldfish rarely grow over 23 inches in length. They come in a variety of different colors from orange, golden yellow, red, blue and white. Most can be obtained from private dealers or online. Outdoor goldfish do not require a great deal of care. Keeping the pond free of scum and providing the occasional fish food flake will suffice.
Locations
Choosing a location for the pond is important toward the longevity of the fish. A sunny location should be chosen so the plants and fish will grow and prosper. Having the pond near a patio or wood deck, where it can be enjoyed and observed, is a good spot. Incorporating a pond into an existing garden can bring added flair and provide a focal point. Most goldfish can be observed easily due to the shallow depth of most ponds.
Accessories
Some of the main accessories for a goldfish pond are plants, lighting and decorative edging. Plants are an important element of any goldfish pond, although goldfish do not eat plants (they get the most nutrients from eating fish flakes). Goldfish love peas, which help keep their bowel systems flushed and clean. Plants can be placed inside of the pond for decorative purposes only; water lilies are a popular choice. Ferns, hostas and miniature Japanese maples are great showcase plants for the surrounding landscape of the pond. Japanese tea houses, gazing balls, benches, lanterns, solar lighting and bird feeders make decorative accents to the edging of a pond.
Maintenance
Caring for a backyard goldfish pond requires little work and maintenance. A pond pump and filter system should be set in place to keep the water moving and clean at the same time. Removing the water and the fish once every 6 to 12 months, cleaning the pond thoroughly and adding fresh water improves the longevity of the fish. A weekly straining of debris, leaves and dirt will keep the fish healthy and the pond looking nice.