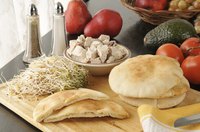 Alfalfa is a green flowering herb, the leaves of which have been used in folk medicine. Today, you can find alfalfa sprouts, which are sprouted from the plant's seeds, at the grocery store and add them to salads. Chlorophyll is the plant pigment compound that gives all green plants, including alfalfa, their green color. It's extracted from plants and made into a liquid called chlorophyllin that's marketed for purported health benefits.
Nutrition in Alfalfa Sprouts
Alfalfa sprouts are a source of dietary fiber -- 1 cup contains 8 percent of the daily value based on a 2,000-calorie diet. According to a review published in "Nutrition" in 2005, fiber-rich foods are more filling and reduce absorption of carbs and fat, ultimately helping you manage your weight. Additionally, alfalfa sprouts are a low-calorie food, containing only 25 calories per cup. One cup of alfalfa sprouts gives you 10 percent of the daily value for vitamin C and 4 percent of your daily iron requirement.
Alfalfa in Alternative Medicine
The phytoestrogens found in alfalfa leaves give them a medicinal quality that could potentially benefit women. According to an article published in the "Forum of Nutrition" in 2005, phytoestrogens found naturally in foods have the potential to reduce menopausal symptoms and reduce the risk of breast cancer, osteoporosis, atherosclerosis and stroke. They may also help nursing mothers produce more milk. Saponins, compounds found in alfalfa, have been found to lower cholesterol levels and reduce blood sugar spikes, according to an article published in the "Journal of Medicinal Food" in 2004.
Purported Benefits of Chlorophyll
When chlorophyll is extracted from plants for use as a supplement, it's mixed with sodium and copper to create chlorophyllin. Little medical research has been done on the effects and benefits of consuming it. One study published in "Free Radical Research" in 2001 found that chlorophyllin in test tubes had an antioxidant effect. Antioxidants counteract cellular damage caused by free radicals, and eating foods rich in antioxidants may reduce your risk of developing certain diseases. Chlorophyllin is marketed as an internal deodorizer, immune booster and blood cleanser.
Alfalfa and Chlorophyll in Your Diet
Alfalfa sprouts are typically consumed raw, and you can sprinkle them onto sandwiches or salads. You could also blend them in with a fruit smoothie if you don't like their taste. You can find chlorophyll in the form of chlorophyllin at health foods stores. Add a teaspoon of chlorophyllin to water, juice, a smoothie or a protein shake. Or you could simply eat a variety of green vegetables to get more chlorophyll in your diet since they all contain chlorophyll.