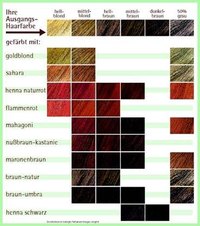 Hair color is important to most people. Whether it's blond, red, brown or black, the color of one's hair can determine whether a person has a healthy glow or a washed-out appearance. It can also cover up unwanted gray or white hair, as well as add shine, depth and texture. Determining what color to dye one's hair, however, is a bit challenging. Luckily, there are formulas in place for determining what type of hair color and dye is right for you.
Chemistry
All hair color is composed of a mixture of the three primary colors: yellow, blue and red. In order to artificially create a hair color, one must take into consideration what colors are opposite the undertones in your hair. For example, if an individual has medium-blond hair and wants to lighten it, she must use the color that is opposite of yellow, since that is her underlying pigment. According to the color wheel, purple is opposite yellow and, therefore, must be the color used to lighten the hair.

Types
There are four types of hair color. Permanent hair color permanently alters the natural color pigments of one's hair. Semi-permanent hair color is used to give hair a darker appearance, usually to cover white or gray hair. It can last for a few months without fading or washing out but will eventually go away. Single-process color lifts one's natural color and instead "deposits" the new color. This type of hair color is best for individuals who want to color their hair themselves.
Levels
The final hair color that results from dyes will depend a great deal on the level of hair color used. Spanning the full spectrum of light to dark, hair colors contain 10 levels, or shades. One is the darkest, or blackest, color, while 10 is the lightest, or blondest, color.
Other Dyeing Options
Aside from dyeing an entire head of hair, many people choose to dye only certain strands of hair. Highlights provide more depth, color and texture to one's hair color. Streaks provide larger sections of colored hair that may lighten or darken the overall appearance of one's hair color, depending upon the color of the streaks. Some people also choose to use bleach, instead of an actual hair dye, to achieve the platinum blond look.
Shades
According to Barbara Quinn, owner of Going in Style, an individual should determine whether the natural shades of her eyes, skin tone and hair are warm or cool before deciding upon a hair color. For example, "cool" eye colors are deep brown or black, grayish blue, dark blue and hazel with flecks of white, blue or gray, while "warm" colors are golden brown, green, greenish blue, hazel with gold flecks and turquoise. Knowing whether one's eyes are cool or warm can determine what hair color would be the most complementary. "Cool" people should stick with ashy, icy shades of black, brown and blond. "Warm" people should opt for rich, golden colors.