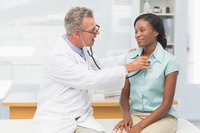 Protein is a major nutrient your body uses to build, maintain and repair itself. It's recommended that adults get 0.8 gram of protein per kilogram of body weight, according to the Institute of Medicine. Some people follow high-protein diets for purported benefits such as weight loss and building muscle. Athletes commonly eat diets high in protein to maintain lean mass and repair muscles from strenuous training. While your body does need protein, eating too much may have unwanted effects over the long term.
Negatively Affects Heart Health
Researchers found a link between long-term, high-protein intake and adverse cardiovascular effects such as heart attack. They conducted a population study involving over 8,461 adults and adjusted for known cardiovascular risk factors. The average daily protein intake was 1.2 grams per kilograms of body weight. Researchers found that eating a diet higher than average and lower than average in protein was linked to a negative impact on heart health. The study was published in the August 2009 issue of the "Journal of the American Society of Nephrology."
Promotes Bone Mineral Loss
Your bones retain minerals such as calcium to keep them strong, and your body works to hard to maintain bone mineral balance. Evidence suggests eating too much protein can disrupt bone mineral balance, according to a clinical review published in the June 2013 issue of the journal "International Scholarly Research Notices." The authors reviewed studies showing that excess dietary protein prevents the kidneys from reabsorbing calcium, increases urinary excretion and decreases calcium balance.
Raises Kidney Stone Risk
Eating too much protein increases the risk of kidney stones, according to the "International Scholarly Research Notices" review. Eating a high-protein diet increases the acid load in the kidneys, which raises the risk of kidney stones. A high-protein diet rich in animal protein can cause a significant increase in the amount of uric acid the kidneys must excrete, according to the review. If you have an existing kidney problem, the increased protein may make things worse.
Not Recommended for Weight Loss
The American Heart Association discourages the use of high-protein diets for weight loss. Some high-protein diets restrict otherwise nutritious foods such as grains or fruits. In addition, some high-protein weight-loss diets put an emphasis on foods that are high in saturated fat, such as meat and cheese. Some high-protein diets may cause quick weight loss initially, due to carbohydrate restriction, but data showing long-term benefit is lacking, according to the association.