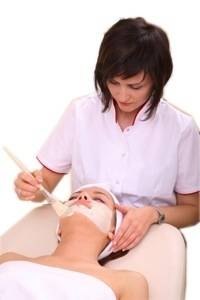 Jessner peels are mild chemical peels that can be used on your face, neck, chest, back, arms and hands. Because of the chemicals used, it does take a considerable amount of time for the skin to heal. However, the results can significantly improve the quality of your skin.
Function
Jessner peels are used when your skin has experienced extensive damage from the sun or the natural aging process. Usually individuals wishing to see immediate and long lasting results opt for a Jessner peel, because the chemicals that make up the peel force the skin to regenerate and heal into a softer, smoother surface.
Features
The Jessner peel is made up of salicylic acid, lactic acid and resorcinol. First, the skin technician will apply a glycolic cleanser to your face to remove any excess dirt and oil. This step prepares the face and prevents infection. Second, the ingredients of the Jessner peel will be applied to your entire face or area that you are having peeled. Since this step burns, the skin technician usually has a fan blowing over you. Depending on how damaged your skin is, you might have several layers of the solution applied. Third, to neutralize this acid solution, it will be removed with cool water. Finally, a calming mask will be will be applied to your skin.
Time Frame
After a Jessner peel, it's likely that your face will have a whitened look, which is called "frosting." This discoloration will only last for a few hours. During the first seven days after a peel, your skin will peel and flake off. Because the healing process is long, re-applications of the peel can be done after two to three weeks of the first one.
Benefits
Chemical peels enable your skin to re-grow, so it can help your skin recover from scars and other damage. After you heal from a Jessner peel, you can expect your skin to be smoother, brighter and healthier. Large pores will be less noticeable as well as fine lines, wrinkles and blemishes. Face peels can make you look younger feel happier in your skin.
Warning
Do not pick your skin off while it's in the peeling and flaking stage, because this can cause your skin to scar or develop an infection, which can increase the healing time. Also, avoid applying moisturizer to your skin, because it can reduce the benefits of the peel. Use a calming serum to help the skin heal and prevent cracking and bleeding.