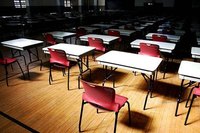 New trainees and college students need to know why they are sitting in classrooms before processing new information. It is incumbent on trainers, professors and presenters to provide training objectives early in the learning process. These objectives establish the skills and knowledge that should be attained with the completion of course materials. Every trainer should continue to promote objectives beyond the first day to reinforce his teaching methods. By incorporating training objectives throughout the course of a week, month or semester, an educator develops an easy method of assessing progress by each student.
Function
The function of a training objective is creating a goal attainable by the student during the course of the training session. For example, an IT trainer teaching new employees about proprietary design software will include an objective about creating flawless page formats once the course is complete. In order to reach this objective, trainees need to bridge the gap between their prior knowledge and the end objective by adhering to the trainer's syllabus. An instructor uses training objectives to evaluate her students, whether it is a letter grade or a pass/fail certification necessary for employment.
Features
A good rule of thumb when creating training objectives is to keep each goal as short as possible without leaving out important details. The concise nature of a training objective makes it easier to present in multiple media, simple for uninitiated employees and young students to understand and portable enough to show repeatedly throughout a training session. Trainers can use "After the completion of this course..." as a preface for each objective to standardize the process. For example, an American history instructor can state a course objective as "After the completion of this course, you should be able to list American presidents and vice presidents in chronological order."
Effects
The primary effect of training objectives on a student is a more relaxed mindset from the start of a training session. A trainee can use objectives, course materials and evaluation tools to get more comfortable with new material. If a trainer is reinforcing these objectives regularly, a student can rebound from an unsuccessful presentation to work toward a better grade or employee evaluation. Another effect of training objectives is uniformity of education from one group of students to the next. This uniformity cuts down on training costs for the employer and blends employees at different stages of their careers by avoiding misinterpretations of company goals.
Benefits
Corporations, staffing agencies and non-profits use training objectives to communicate their techniques and styles to new participants. A publishing company hiring new editors, writers and graphic designers can implement unique style books quickly by setting clear training objectives. Software companies are known for setting very specific training objectives due to the use of proprietary software, the highly competitive nature of the industry and the need for new trainees to get off to a fast start. Every employee and student who has passed through a training course can look back at these training objectives in the future to see how their skill sets have progressed.
Presentation Method
Instructors and trainers should present training objectives in every medium available through their employers. College universities use online learning platforms like BlackBoard and Desire2Learn to communicate training objectives to students, teachers and administrative staff. Corporations can place training objectives in job descriptions and Intranet pages that are accessible only by approved employees. Trainers should repeat these objectives following exams, demonstrations and other natural dividing points in training sessions to encourage continued progress by trainees.