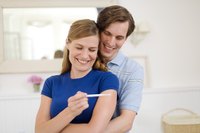 When couples start thinking about having kids, a myriad of questions arise. Most revolve around the potential obstacles that can encumber a successful pregnancy. Yet these common uncertainties don't just involve the well-being of the hopeful mother; they also entail the health of the father, more specifically the health of his little swimmers. And if this potential pop is a smoker, you may be wondering whether this nasty habit has affected his sperm.
Significance
In a word, yes: Smoking does affect a man's sperm count, and significantly so. Many men who smoke regularly will see a decrease in the density of their sperm by upwards of 23 percent. That means they will have a sperm count that is 23 percent less than a nonsmoker's. That's a substantial amount to lose when a couple is trying to get pregnant. Besides the obvious health benefits, quitting smoking can help elevate your sperm concentration.

Other Issues
While smoking does decrease a man's sperm count, those that are left will endure a marked decline in their motility, which basically involves their ability to get from here to there. In a smoker, a sperm's capability of movement will diminish by 13 percent. Coupled with the decrease in sperm count, this can lessen the odds of fertilization. Not that it is impossible for a smoker to impregnate his partner; it merely lowers the chances. Smoking may also alter the actual shape of a man's sperm; the number of sperm that suffer from this abnormality will vary from male to male.

Physiology
Tobacco use basically influences the hormone levels in a man, which has a direct correlation with his production of sperm and the quality of the seminal plasma that transfers the sperm. In a smoker, the fluid that transports the sperm during ejaculation has a relatively high toxicity. This elevated toxicity essentially decreases the viability of the sperm, which translates into yet another obstacle to successful fertilization.

Treatment
The easiest remedy for a man who is suffering from a low sperm count due to smoking is to simply quit. From there, he can usually see a marked increase in sperm density. To aid in the process, he may also want to adopt a healthier diet, increase his level of exercise and even begin taking vitamins that have a concentration of Vitamin C, Vitamin E and Vitamin B12. All three have been known to elevate a man's sperm count.

Considerations
You may also want to consider limiting or eliminating alcohol use. Excessive alcohol consumption can affect a man's sperm count. So if you've been a smoker, it is wise to limit your alcohol consumption to aid in fertilization.