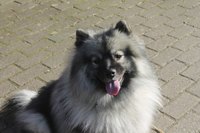 Shedding is a normal and natural function in which dogs get rid of hair that's either damaged or old. Although almost all canines shed, dogs of certain breeds may do so more heavily than others. If your pooch has a dense undercoat or has more fur in general, he might shed more than many other dogs. Excessive shedding, however, can sometimes signify a health issue.
Shedding Seasons
In the springtime, dogs shed their winter coats. Lightweight, shorter hair takes the place of the heavier winter coats. By the time the autumn months roll around, the opposite thing happens -- dogs shed their lighter coats and then grow denser and thicker hair that can defend their bodies from cold winter weather conditions. Seasonal shifts in the appearances of coats are typically most apparent in dogs with double coats. Examples of these include keeshonds, Shetland sheepdogs and collies. These dogs have both protective top coats and smooth undercoats that provide ample insulation. They shed heavily in the spring and autumn alike.
A dog's shedding patterns can sometimes depend on whether she's fixed or not. Female dogs who haven't been spayed generally shed twice yearly during their heat cycles. Fixed female dogs, however, tend to shed more consistently throughout the year.
Shedding and Dog Breeds
While shedding is typical and normal for most canines, some of them lose significantly more hair than others. Poodles aren't usually big on shedding. German shepherds, however, often shed heavily all throughout the year. Also, if your pooch is of a short-haired breed, you might not notice him shedding much. That doesn't necessarily mean that he's not shedding just as considerable an amount of hair as a dog from a long-haired breed, however. It could mean that his hair is shorter and therefore significantly less conspicuous to you during the shedding process.
Note that American hairless terriers don't shed simply because of their lack of coat. (See Ref. 7, pg. 196)
Medical Conditions
If your dog is shedding too much, it could be a sign of a health condition. Excessive shedding is associated with medical issues and situations such as hormonal imbalances, food allergies, inhalant allergies, allergic dermatitis, metabolic disease, bacterial infections, fungal infections, immune disease, protein deficiencies, cancer, injuries caused by licking, stress, adrenal disease, thyroid disease, liver disease, kidney disease, parasites and exposure to irritants. Excessive shedding can even be an effect of medications.
Excessive shedding also can be a sign of sunburn. Nursing or pregnant dogs sometimes experience inordinate shedding, as well. Lastly, some dogs shed excessively when their owners use brand new shampoos or soaps.
Signs of Excessive Shedding
Look out for warning signs of excessive shedding in your pet. These signs include large bald spots, brittle fur, dry fur, thinning fur, fur breakage and inconsistent shedding throughout the coat. Also look out for signs such as excessive scratching, face rubbing, frequent foot licking, skin irritation and open sores. If you detect any of these things in your dog or believe that his shedding is excessive, take him to the veterinarian immediately for a checkup. If the excessive shedding is caused by a medical problem, your vet can treat the cause.