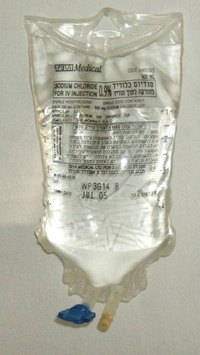 A Lactated Ringer (or more accurately, Lactated Ringer's solution) is a liquid solution of electrolytes in water. Electrolytes such as sodium occur naturally in body fluids and help muscles and nerves function, as well as assisting the body in maintaining pH and balancing fluids. Loss of electrolytes through sweat and urination is normal, and these electrolytes are replaced by ordinary fluid consumption. If too many electrolytes are lost due to bleeding, vomiting or other disease, they must promptly be replaced.
Use
Lactated Ringer's is given intravenously to a patient to replace fluids and electrolytes lost from illness or injury. The concentration of electrolytes and water is designed to mimic the composition of the blood plasma. This solution may be prescribed along with a sugar solution (typically dextrose) to provide a source of calories. Lactated Ringer's may also be used in conjunction with a variety of intravenous medications in order to dilute the medication.
Composition
The ratio of electrolytes and water in Lactated Ringer's is carefully balanced so that it can be used efficiently by the body. In every 100 mL of Lactated Ringer's, there are 600 mg of sodium chloride, 20 mg of calcium chloride, 30 mg of potassium chloride and 310 mg of sodium lactate. The pH of Lactated Ringer's is adjusted to be 6.6, and a liter of this solution has 9 calories.
Function
Rehydration from the water in a Lactated Ringer's solution is vital, as the total weight of the body is about 70 percent water. A significant loss of water, and the ions contained in it, will result in an extreme upset to every major system in the body. In the event that too much water is lost, the pH of the body may become too acidic, a condition called acidosis. The lactate contained in Lactated Ringer's helps the body combat acidosis.
Side Effects
Because Lactated Ringer's solution is given intravenously, a common side effect is irritation at the administration site. Although uncommon, allergic reactions such as swelling or difficulty breathing are possible from Lactated Ringer's. Other potential side effects: injection site infection or bruising, fever, infection of the vein or an abnormal increase in blood volume. Pulmonary edema (fluid in the lungs) and over-hydration are also potential complications that can occur from the use of Lactated Ringer's solution.
Considerations
Lactated Ringer's is made by a number of different manufacturers and may have slight variations in formula. In general, however, these solutions are considered isotonic with the blood. This means that the concentration is approximately equal to the concentration of healthy blood. This solution may also be called "Ringer's lactate solution," LR or RL. Lactated Ringer's solution was invented in the late 1800s by British physiologist Sydney Ringer.