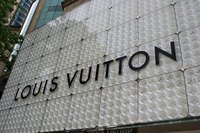 Louis Vuitton (pronounced Lew-ee Vee-taun) is the name of a luxury fashion brand, made popular by its luggage and leather goods. Louis Vuitton is also known by the initials LV. The French company is one of the leading fashion houses in the world, and responsible for creating trends, and influencing fashion.
History
The luxury brand shares its name with its creator, Louis Vuitton. Vuitton was born in France, in 1821. He obtained a job as an apprentice designer for Napoleon III of France and his wife. In this position, Vuitton made travel luggage for the royal family. After gaining adequate experience, Vuitton ventured off to create his own suitcase company in 1854. During the World Fair in the early 1900s, Vuitton's son, Georges Vuitton, introduced the luxury suitcase collection to an international crowd.
In the 1960s, Louis Vuitton reintroduced its collection, adding purses and other bags along with the travel trunks. It became very fashionable to have the Louis Vuitton brand, after placement in the 1963 Hollywood movie Charade, starring Audrey Hepburn. It has been a fixture amongst the rich and affluent since then. Louis Vuitton is synonymous with high-end luxury.
Types
Although Louis Vuitton started off as a luggage manufacturer, it has in recent years expanded to various collections. One of the most popular collections is purse wear, with the "Speedy" purse as the all-time favorite. Louis Vuitton also manufactures all things leather, including gloves, shoes and boots. Recently, the brand added watches and other jewelry to its collection. On its site, one can also find clothing for men and women, including swimsuits and shawls. Trunks, which were the original offering of Louis Vuitton, are still prominently sold.
Warning
Louis Vuitton's signature monogram pattern was created in part to eliminate counterfeit. Unfortunately, 99% of Louis Vuitton bags available on the market today are fakes. Louis Vuitton takes a hard stance against those who copy its design with a dedicated legal team. It is impossible for it to stop all fakes, especially since they are increasingly more "authentic" in their look.
One of the best ways to spot a fake Louis Vuitton is if the price is deeply discounted. Louis Vuitton keeps a strict price controls on all its products, and rarely, if ever, discounts any of its wear. If a price seems too good to be true, it's either fake or stolen, but probably fake. Another way to spot a fake is the quality. All Louis Vuitton bags are hand-made, and they have a great dedication to quality. If the zipper is shoddy, or the logo is crooked, then it is not an authentic Louis Vuitton.
Identification
Until recently, all Louis Vuitton bags featured a signature monogram canvas. The monogram canvas was conceived in 1896, and is a brown, oriental floral design with the letters LV in a distinct pattern. Most Louis Vuitton still carry this trademark pattern. With a push to innovate, new designs feature different color canvas, instead of the traditional brown. Some abandon the LV pattern all together.
Geography
Louis Vuitton is headquartered in Paris, France. It has stores all over the world, in key fashion cities, including New York, Tokyo and London.