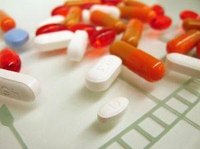 Clindamycin, or clindamycin hydrochloride (HCL), is a prescription antibiotic medication. Used to treat bacterial infections, clindamycin is provided as an oral capsule. Clindamycin is manufactured under a number of brand names and is also available in generic forms. Oral clindamycin HCL is approved for the treatment of bacterial respiratory illnesses, abdominal infections and skin or soft tissue infections. Clindamycin is also used as a veterinary medication or may be prescribed before dental work to prevent heart infections.
Function
Antibiotics treat bacterial infections by preventing bacteria from growing. Clindamycin HCL works most effectively to stop infections caused by anaerobic bacteria--bacteria that do not need oxygen to survive--such as Staphylococcus aureus and Streptopcoccus pneumonia. Clindamycin inhibits the manufacture of protein by the bacteria, disabling their ability to replicate. Any bacteria remaining quickly die out, and no new bacteria are able to survive in the presence of clindamycin, which effectively stops the infection being treated.
Types
There are several brand names of clindamycin available. The most common brand names are Cleocin by Pfizer, Dalacin by Upjohn and Clinacin by Invert. Cleocin and Dalacin are both approved for human use; Clinacin is approved for veterinary use only. Clindamycin HCL, including Cleocin, Dalacin and generic forms, are available in capsule dosages ranging from 75 mg to 300 mg. Clindamycin is also available in topical and intravenous forms, but these forms contain clindamycin phosphate, not clindamycin HCL.
Considerations
The widespread use of antibiotics such as clindamycin HCL has created an increase of antibiotic-related diarrhea. This diarrhea is the result of the bacteria Clostridium difficile, or C. diff, normally present in the body. During antibiotic use, many digestive bacteria are killed, but not C. diff. C. diff can then proliferate in large numbers, causing an unhealthy bacterial balance in the digestive tract. The toxins released from C. diff bacteria can cause bloating, abdominal cramps and diarrhea.
Side Effects
The most common side effects of clindamycin are mild stomach upset, nausea and diarrhea. These symptoms are often manageable at home and can be reduced by taking the medication with food. The presence of bloody stool or severe abdominal pain may indicate a more severe problem, pseudomembranous colitis, which should be treated promptly. Although rare, allergic reactions can occur from clindamycin; so a rash, difficulty breathing or swelling while taking clindamycin should be treated as an emergency.
Warnings
Due to the risk of colitis associated with clindamycin, it should not be used by individuals with colitis or other severe gastrointestinal disorders. Patients with liver or kidney disease should be monitored closely when taking this medication, and may require altered doses of clindamycin. Antibiotics, including clindamycin, do not combat viral infections such as the virus that causes the common cold. In order to prevent the development of antibiotic-resistant bacteria, clindamycin should be taken exactly as directed.