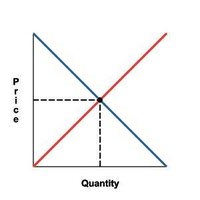 The theory of supply and demand maintains that the quantity of products or services supplied must equal the demand for it. A company supplying more than the quantity demanded from customers does not sell its products. If a company has insufficient supplies for customer demand, the price rises and customers become unwilling to spend that amount. Suppliers can evaluate the demand from customers and determine the appropriate volume of product supplied.
Function
Using the supply and demand theory, suppliers can prevent profit loss and determine cost-effective methods of supplying their product or service. Suppliers want to sell their product for a specific amount, yet customers are willing to spend a specific amount at that price, so an unspoken negotiation takes place. Either the seller gives into the buying price and supplies less of their product, or they keep the current price and have fewer buyers. A supplier forfeits profit and growth when not responding to the theory of supply and demand.
Significance
The economy in the United States usually booms or expands for approximately six to 10 years, followed by a contraction or recession that lasts around six to 24 months. During both periods, suppliers evaluate whether to hire or lay off workers. In a healthy economy, workers produce and consume more goods. These workers have more disposable income and have more buying power. Sellers profit and workers thrive. A high demand and a high supply contribute to a healthy economy, and suppliers strive for this environment. If they fail to adhere to the theory, it hurts the economy as a whole. Even though money does not necessarily create happiness, a booming economy creates a stable and productive workforce and a generally content society.
Effects
Suppliers consider a variety of factors when deciding whether to produce goods. One consideration is the opportunity cost, which is the opportunity forgone by making one choice over the other. For instance, if a small family business finds a demand for its supplies, the family must determine the opportunity costs, such as forgoing family time, in order to produce more goods. If the family decides to keep up with the demand, there will be equilibrium in the supply and demand, but the opportunity cost is forgoing personal family time. If the family decides to keep the same quantity supplied, regardless of the demand, the opportunity cost is a decrease in profits.
Identification
In order to keep up with consumer demand, suppliers use tools like the stock market or company sales reports to determine what consumers are demanding. Sometimes, supply will not meet consumer demand. Using the data and tools available, suppliers can prepare a variety of schemes to deliver the goods. Suppliers evaluate how they will meet the demands, analyzing areas, such as hiring more workers and analyzing cost effective-methods so they can deliver the goods.
Time Frame
Suppliers determine consumer demand by measuring the daily trading volume on the stock market. Looking at the opening and closing numbers is an indicator on how much consumers demand and how much the company determines supply. The stock numbers indicate a volume and price. These numbers represent the theory of supply and demand. Simply put, volume is how much a company is supplying, while the high price indicates eager demand. This is an equilibrium supply and demand, so that suppliers are not producing more than what consumers demand. As the price drops, so should volume supplied. If the price rises, the supplies must also increase.
Considerations
Other factors prevalent for non-trading suppliers when determining volume supplied do not rely on timely sales reports, but rather current events. An example might be an unusual demand for salt in unusual weather conditions. This is especially true for climates that do not normally experience icy conditions. Suppliers must find a way to produce and deliver the goods to that region in which they do not have a cost-effective method to do so. In a case like this, a supply shock occurs. As the price for salt skyrockets, the low volume supplied disrupts the economic equilibrium of supply and demand.