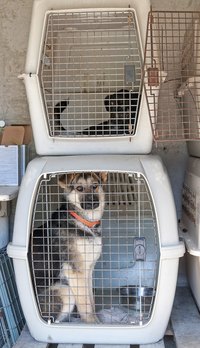 Crate training is a temporary management technique in which owners place their dog in a suitably sized dog crate to modify their behavior -- typically to housetrain, since dogs don't like to urinate or defecate in their living space. Alternatively, crate training can help stop your dog from getting into mischief when you must leave him alone.
The Crate
Many crate styles are available via commercial outlets. Permanent-plastic-wall models provide the most security for your dog, but wire models are usually collapsible, making them easier to transport. It is important to select a crate of proper size; undersize crates are uncomfortable for your pet, while oversize ones may not tender the behavioral changes you seek. Ideally, a crate should be just big enough that your dog can stand up, turn around and lie down comfortably. If you have a young dog, you can purchase a crate designed to accommodate his full size, but insert a plastic storage box or improvised divider to temporarily reduce the amount of interior space. This way, you do not have to buy increasingly larger crates as your dog grows.
The Cruelty Question
Some dog owners fear that crate training is a cruel practice, despite the fact that most dog trainers find crate training to be an effective technique that causes your dog no harm. As explained by the American Society for the Prevention of Cruelty to Animals, "a crate is an effective short-term tool for managing and training your dog." Dogs often learn to love their crates, retreating into them whenever they feel anxious or afraid. However, crate training is not suitable for long-term management -- if you must routinely leave a problem dog alone, it is better to board your pet with a kennel or seek other arrangements.
Time Limits
You should never leave your adult dog in a kennel for more than eight hours at a time; even this period can cause mental and psychological problems if it becomes your dog's routine. As much as possible, restrict crate time to four hours or less. Dogs under 6 months of age cannot hold their bladders very long, so limit crate time to about an hour until they are three months old, at which point you can gradually increase the time in the crate to three or four hours. If the training progresses well, you should be able to stop crate training your dog and allow him more freedom when you are not present.
Tips and Tricks
Some dogs exhibit fear or stress when placed in a crate, so introduce them to the crate gradually. You can place a treat inside the crate to encourage your dog to enter the crate. Start by confining your pet to the crate for brief periods of time, perhaps five minutes, and work your way up. Always try to take your dog on a long walk or engage is some vigorous playtime before confining him to his crate -- this will help him get rid of any excess energy and help him look forward to lying down and resting. Additionally, be sure to take your dog outside to go to the bathroom before placing him in the crate so that he remains comfortable when he's in it.
Contraindications for Crate Training
Crate training is not always appropriate. For example, do not confine your dog if he has a high temperature or if he is experiencing intestinal disturbances or vomiting. Utilize other training methods if your dog demonstrates signs of separation anxiety, such as destructive behaviors within 30 minutes or your departure or continuous barking, howling or crying. If you have any questions about whether crate training is appropriate for your pet, consult your veterinarian.