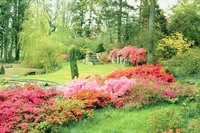 There are many reasons why a person chooses to go with an automatic sprinkler system to water their lawns. Convenience is the number one advantage since you no longer have to drag hoses around the yard and waste time watering by hand. Installing a sprinkler system can be costly, whether you decide to have a professional do it or you install it yourself. Below are some things you need to consider before choosing either one.
Function
The function of a professional irrigation contractor is to assess your needs. They will design and install the most cost-effective and efficient irrigation system possible to fit the specifics of your yard. The contractor will install the best equipment possible while paying attention to sprinkler patterns and back-flow. The contractor will take into account your soil conditions, which part of your yard gets sun or shade and your landscape. An irrigation contractor will also program your controller and explain how the system works. If you need to change the programmed watering schedule, you will be able to do so on your own.
Types
Basically, there are three types of sprinklers. Each works best for a certain situation. A brief description of each are listed below:
Spray head sprinkler - This sprinkler system works best on a flat area that absorbs water relatively quickly. They spray only a small area but eject quite a bit of water. This style of sprinkler pops up when used and then retracts back into the ground when the system is shut off.
Drip sprinkler - These type of sprinklers are used in greenhouses and in small areas such as a flower bed.Since these sprinklers do not use a spray of water but rather drip on the area requiring water, they are economical and environmentally friendly.
Rotating sprinkler - These sprinklers shoot out a large stream of water and are used to water very large areas. Their heads are able to move around in a full circle and are the choice of gold courses.
Costs
In the consideration of costs, there are several things that are factored in to determine a price. How many zones that are required to maintain your yard, is the biggest one. Average price to install each zone is around $700. The bigger the area that requires water, the more zones you will need.
Each contractor will set their own price to install the system. It's best to contact several irrigation contractors and get a quote from each. Depending on what system you use, as well as the amount of zones, will affect the price. It's best to educate yourself to what your yard will need before contacting anyone. This way you will be able to make a decision based on facts, not what a salesman wants to sell you. An average installation price for an entire system can run anywhere from $1000 and into the thousands of dollars.

Time Frame
The size of the area needing installation of sprinklers, will determine how long it will take for the job to be done. Since there is digging and installation of pipes, this is not a small job. You can estimate it to take anywhere from 2 - 7 days from start to finish of the job.

Considerations
When planning to install an automatic sprinkler system in your yard, there are some things you need to consider. You will want to familiarize yourself with the types of sprinklers and how your yard is laid out. You need to figure out would it be best to go with several types of heads, or will one style do the job. Also, you need to consider the credentials of the company doing the work. Make sure they are bonded, insured, have the proper license, have experience and guarantee the system they're installing. Since automatic sprinklers systems generally require maintenance, finding out if there's a warranty on service and parts is imperative.

Benefits
A sprinkler system is a great investment in your home. Appearance is everything when it comes to market values, and a lush green landscape will only increase your homes value. Also, you will have the convenience of your yard being automatically watered. No longer will you have to do it by hand. A sprinkler system also saves water because it delivers only the amount needed to keep your plants and yard in tip top shape. With the help of a professional irrigation contractor, you should be able to keep costs to a minimum while insuring the best system for your needs.