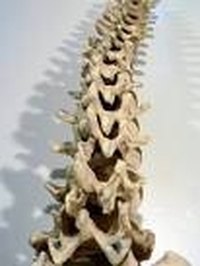 Paraplegia is most often defined as the complete or partial paralysis of the legs and the lower part of the body. While this condition is usually caused by a traumatic injury to the spine, the condition can also be brought about by diseases as well as other issues, including scoliosis. The degree of paralysis is dependent upon the point along the spine where the injury or anomaly occurred. In the case of a T6 injury, the trauma occurred at the sixth thoracic vertebra, which is directly behind the lower end of the sternum or breast bone. While the patient will lose some sensation, movement, and function, she can still be mobile and care for herself.
Sensation
A patient who has had an injury of the T6 vertebra will usually have feeling from the top of his head down his arms, and down the front and back of the thorax to the diaphragm, but not below the diaphragm.
Movement
A T6 paraplegic will normally have movement in her upper extremities, including head, face, neck, shoulders, arms and diaphragm. Therefore, she should be able to talk, eat, see, hear, breathe, and use her arms and hands. She should also be able to use her arms to help raise herself into a sitting position.
Bladder and Bowel Function
Doctors want to restore bladder and bowel function if at all possible, not only because it gives the patient better quality of life, but because long-term catheter use can cause the patient to have repeated infections. If the spinal cord has not been severed, there is a chance that bladder and bowel function can return.
Ambulatory Function
A T6 paraplegic can be expected to be able to power a wheelchair, including "jumping" the chair from the street to the curb. He can also learn to drive again in a car equipped with hand controls, and can learn to lift the wheelchair into and out of the car himself.
Theories/Speculation
There are several researchers around the world who are concentrating on finding a cure for spinal injuries using stem cells. While some doctors have seen what they believe to be positive results, not enough data has been compiled yet to prove or disprove the significance of such treatments.