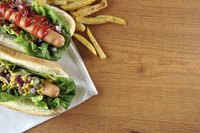 When you combine lactic acid with potassium hydroxide, you get the potassium salt of lactic acid, known as potassium lactate. The odorless, white solid is generally recognized as safe for human consumption by the U.S. Food and Drug Administration. The compound may make your food look and taste better and protect you from foodborne illness.
Pork Enhancer
The pork industry adds potassium lactate to pork to improve the quality of the meat. According to the National Pork Board, this ingredient enhances the color, juiciness, flavor and tenderness of pork. It also slows the process of flavor deterioration.
Antimicrobial Agent
Potassium lactate is added to meat, poultry and seafood products to inhibit disease-causing bacteria. When used in hot dogs along with sodium diacetate, it inhibited the growth of listeria monocytogenes, according to a study published in 2003 in "Food Microbiology." Eating food contaminated with listeria may cause diarrhea, fever, muscle aches, convulsions and miscarriage or premature birth in women who are pregnant, warns the Centers for Disease Control and Prevention.