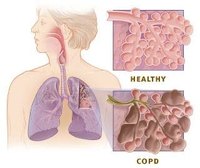 Chronic obstructive pulmonary disease, or COPD, is a serious chronic condition that leads to progressively reduced lung capacity because of persistent inflammation and tissue damage. While normally seen in smokers, people who lack the enzyme Alpha1-antitrypsin (AAT) are at increased risk for developing the disease.
History
COPD is first described in medical literature in the 19th century. British physician Charles Badham and French physician Rene Laennec (inventor of the stethoscope) both described it as chronic bronchitis and emphysema. By the 1860s, the common progression of the disease--chronic bronchitis with repeated infections, ending in heart failure--was included in British medical textbooks. It was more prevalent among the poor, likely because of their exposure toxins, and thus was attributed to "bad" living.
Identification
COPD, as the name suggests, is a state of chronic airway obstruction in the lungs due to either bronchitis, emphysema or both. The obstruction is usually progressive but in some cases is partially reversible. Symptoms include a long-term, productive cough, wheezing and breathlessness. Physical examinations and pulmonary tests followed by a chest radiograph or CT scan are used to make a diagnosis. If the patient is under 40 or has a family history of early COPD, genetic testing is often performed to check for AAT deficiency.
Types
Chronic bronchitis is indicated by the presence of a a productive (mucus-producing) cough, attributable only to bronchitis, for 3 months per year for at least 2 consecutive years. Bronchitis causes mucus gland enlargment, inflammation and the thickening of the bronchial wall. Airway walls can narrow and become deformed; supporting tissue can be lost as well.
Emphysema is the permanent enlargment of air spaces around the bronchial tubes and the destruction of the bronchial walls. Emphysema may occur primarily around the bronchials or around the alveolus, (behind the bronchials, where gas exchanges in the blood take place). This second type of emphysema is commonly seen in patients with AAT deficiency.
For most COPD patients, the airway inflammation seen in bronchitis and the tissue destruction seen in emphysema are both present. The inflammation can be treated and sometimes reversed, but the tissue damage cannot.
Considerations
The major cause of COPD is cigarette smoking, developing in 15 percent of smokers and accounting for 90 percent of one's risk for developing the disease. Other factors include secondhand smoke and air pollution.
There is one known genetic risk factor, alpha1-antitrypsin (AAT) deficiency, but it accounts for only 1 percent of COPD cases in the U.S. AAT inhibits an enzyme called neutrophil elastase, which can cause the tissue damage seen in emphysema if it is not broken down efficiently by the body. A mutated gene inherited from one parent can cause a mild deficiency, but limiting one's exposure to smoke and pollution can generally prevent COPD. However, if two damaged genes are inherited, it is likely that the patient will develop COPD regardless of any precautions.
Prevention/Solution
Aside from those with an AAT deficiency, COPD is rarely seen in non-smokers. This is the best preventative measure one can take. If a smoker is diagnosed with COPD, the first step is always a smoking cessation plan. Other treatments include oral or inhaled steroids, bronchodilators, mucolytic agents, oxygen therapy and antibiotics to treat any lung infections, which are common in people with COPD. Patients with AAT deficiency may receive infusions of AAT harvested from donated blood plasma. Pulmonary rehabilitation is frequently recommended.