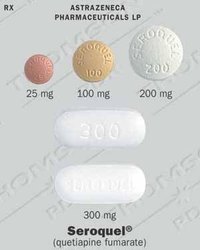 Seroquel is an atypical anti-psychotic medication that's most commonly used to treat bipolar disorder. The medication is also prescribed for a number of other psychological conditions, including schizophrenia, anxiety disorders and insomnia. Seroquel is available by prescription only and comes in the form of an oral tablet. The medication is manufactured by AstraZeneca Pharmaceuticals LP.
Function
Seroquel acts as a mood stabilizer; regulating the imbalance of serotonin and dopamine, which are two of the primary chemicals that are found in the brain. Many researchers believe that a chemical imbalance is the root of most psychological disorders. It was approved by the Food and Drug Administration (FDA) to treat bipolar disorder in both its manic and depressive periods. Doctors often prescribe Seroquel in combination with the drugs Lithium or Depakote, in order to assist with the long-term maintenance and care of the condition. It's frequently administered because of its capability to stabilize the highs and lows of bipolar disorder--helping the user control their severe emotional states, which in turn allows them to communicate and engage with others on a more healthy level.
Features
Seroquel is also prescribed for the treatment of schizophrenia. The effectiveness of the medication in schizophrenia was originally determined by conducting various clinical studies of individuals with schizophrenia, who were receiving inpatient care (hospitalized). Although, the studies were only short-term, Seroquel is often prescribed for long-term usage. In such cases (as with the other psychiatric medications), the prescribing doctor will re-evaluate the efficacy of the drug in regards to the specific patient.
Considerations
In addition to the psychological conditions mentioned above, Seroquel may also be prescribed for "off label" usages. This means that it can be utilized in the management of ailments other than the ones indicated and approved. Seroquel may also be prescribed in the treatment of anxiety disorders (such as obsessive compulsive disorder or OCD), insomnia, post traumatic stress disorder (PTSD) and to combat some of the side effects that may occur from a drug like Requip, which is used to combat Parkinson's disease.
Identification
Seroquel is available by prescription only. It is taken orally, usually once a day (at the same time) and comes in 25 mg, 100mg, 200mg and 300mg tablets. Individual dosages may vary, depending on the person taking the medication and the severity of illness. Seeing as people may tolerate and respond to the medication differently, the most effective dosage can take some time to ascertain. A doctor will generally start a patient on a smaller dosage and build up from there. By doing this, they can gauge the effectiveness and be conscious of any side effects that may occur.
Effects
Some of the common side effects attributed with Seroquel include: nausea, vomiting, weight gain, drowsiness, dry mouth, blurred vision and weakness. Severe side effects include: irregular heartbeat, confusion, uncontrolled muscle spasms, impairment of speech, vision or balance and the sudden onset of lack of feeling or weakness, particularly on one side of the body. Breathing difficulties, skin irritations, hives, rashes and swelling could be the sign of an adverse reaction. If the symptoms or side effects increase, medical attention should be sought immediately. Please be aware that pharmaceutical companies are required to list all possible side effects and interactions that may occur; this does not mean that a person will experience all or even any of them.