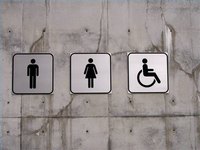 Unisex implies one sex with "uni" meaning "one," added to the word sex. It implies that there is no division between the sexes. The term unisex was popularized in clothing and hairstyles and offered a style suitable for either male or female. Jeans, a popular item for both men and women, were once predominantly male clothing. When women adopted the style, these same blue jeans became unisex clothing. The term unisex is now used for more than clothing and hairstyles. It is also used in bathrooms and name selection.
History
The 1960's offered dramatic change. Men grew their hair longer, nicknames became interchangeable with both men and women and women started wearing pants for formal and business occasions. The term "unisex" is a misnomer since it means literally "one sex," but it is taken to mean items suitable for both sexes.
Time Frame
Hairdressers adopted unisex signs to show that they cut everyone's hair in the 1960's and 70's as hair became longer on men. This wasn't the first time that there were unisex barbers and hairdressers. Although the establishment didn't use the term unisex, in 1861a salon in Virginia City, Nevada called Arthur's Tonsorial Parlour had a sign that said, "We clip anyone." This indicated that the parlour gave service for not only the men of the area but also clipped the hair for women who kept their hair short while they searched for silver.
Types
Clothing became more casual in the 70's and women and men began to wear the same style of jeans and t-shirts. Most of the clothing that is unisex tends to be men's styles that women adopt. Jeans, chinos, polo shirts, button down dress shirts, vests and cargo pants all fall into the category of unisex. Some of the men's clothes influenced by the unisex movement use color such pink and purple but most clothes are simple conservative articles with no embellishments that are more for men.
Features
Unisex bathrooms, often called "family bathrooms," offer those traveling with opposite-sexed children a way to monitor the child while they use the facilities. Many of the movements for unisex bathrooms came from transgendered individuals who found using facilities a dilemma. Most unisex washrooms have a changing station and are single stalls, but there are multi-stall unisex bathrooms used to save space.
Considerations
Names are also unisex. "Saturday Night Live" had a skit by Julia Sweeney about androgynous Pat. The character dressed in clothing that was unisex, had a hairstyle that either sex could wear and of course, the name implied that she/he was either a male or female. Everyone was too polite to ask the real sex of Pat. Unisex names and nicknames became quite popular recently and are one way that parents can name a child after a grandparent or parent of a different sex. Some names are only unisex in the United States. Certain names are male specific in some countries and female specific in others, such as Jean, which is feminine in the United Kingdom and masculine in France.
Benefits
Unisex clothing, haircuts and bathrooms came about because the ever changing norms in society. In the United States, most unisex bathrooms consist of one stall with a locking door on the outside. These are more acceptable to the gender specific public. Unisex clothing still hasn't passed the stages where the male clothing is dominant, and its unisex sizing really means male sizing. Haircuts seem to be the only true unisex item, with men wearing a crowning glory of hair and women shaving their hair to the scalp. Names and nicknames that are unisex increase in popularity.