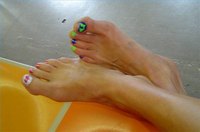 Feet can be plagued with a wide array of foot skin disorders or ailments. Some are caught in public while others stem from poor foot hygiene, bacterial or other infections. Many of these foot skin disorders can be prevented and all should be treated as soon as possible.
Types
There may be as many types of foot skin disorders as there are different sizes of feet. Some of the most common include athlete's foot, which looks like the foot is rotting away; cracked heels, identified by dry and cracked heel skin; and warts, which appear as one or a series of bumps. Others include chilblains, which shows up as tender purple or red bumps; capillaritis, which is skin discoloration due to leaking capillaries; and hand, foot and mouth disease, which forms small blisters on the named areas.
Features
Many of the foot skin disorders share some common traits. Skin becomes raw, red, cracked, blistered or even starts to slough off. Some involve bleeding. Others look like mold is growing on the sole or in between the toes. Some are accompanied by rashes, blotches, discoloration, itchy or dry patches. None are pretty and all should be treated immediately.
Misconceptions
Athletes foot, so named because of athletes' penchant for contracting it, can be picked up in places far beyond the locker room floor. Any surface that is contaminated with fungal spores can be a breeding ground for the fungus that causes athlete's foot. The condition can also be caused by several other factors. A bacterial infection or mold infection are also main causes, as are soft corns between the toes that press against each other, skin conditions such as eczema or psoriasis, and even injury caused by too vigorously removing peeling skin.
Prevention/Solution
The best way to keep feet healthy overall is to wash them often, make sure to thoroughly dry them before putting on socks and shoes and to keep them protected. Flip flops or sandals should be worn in communal areas that could be contaminated with a number of nasty things. Heavy sweating, feet that are encased in non-porous shoes for long periods and feet exposed to dry or other extreme conditions can also lead to a foot skin disorder. Wearing shoes that are loose in the toe area, allowing plenty of air circulation around the foot and treating ailments immediately with a trip to the dermatologist are ways to combat the threat.
Warning
If left untreated, many foot skin disorders can lead to problems far bigger than an ugly-looking foot. Some can spread, affecting the skin not only of the foot but also the ankle and leg. Others can keep eating away at the skin until bone or vital tissue is exposed. All will cause a great deal of pain, especially since people are constantly placing the full weight of their body on their feet and using them to walk around.