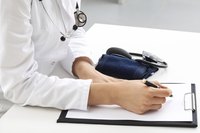 Many customers who do not have insurance, or have limited insurance, turn to medical discount cards to lower the cost of their health care or prescription medications. Although legitimate medical discount cards can reduce the cost of medical expenses, they do not provide the same benefits as health insurance. Customers must choose medical discount cards carefully in order to receive the maximum benefit for the lowest cost, and avoid discount card scams.
Function
Medical discount cards do not provide health insurance. Instead, they offer customers who are paying for medical bills out of pocket a reduced price on medical services or prescription drugs, much like a grocery discount card or club card. Some medical discount cards provide discounts only on prescription drugs, eye exams or dental care, while others cover a variety of services, including office visits, surgical procedures and hospitalization. In most cases, customers present the discount card to the doctor or pharmacy when they receive care to get a discount on their bills, which they then must pay without further assistance from the medical discount company.
Types
Customers may obtain medical discount cards through their place of employment or an organization they belong to, such as the AARP. Some health insurance companies, particularly those with high deductibles or without prescription coverage, also provide medical discount cards for certain services. A wide variety of independent companies also sell medical discount cards. Some of these discount cards are legitimate, while others are little more than scams. The Consumer Health Alliance website, linked in the resource section below, has a list of medical discount card providers that meet ethical standards.
Benefits
Medical discount cards that are issued by reputable companies and are widely accepted, can offer significant savings for patients on a limited income. For example, the Medicare prescription card issued by the U.S. government costs $30 per year or less, and offers qualifying seniors discounts of about 12 to 17 percent off the average retail price of many brand name prescription drugs, and about 30 to 60 percent off the price of generic medications.
Considerations
The value of a medical discount card depends on the amount of the discounts it offers, how widely it's accepted, and whether it covers the particular services or medications a patient needs. Before purchasing a medical discount card, customers should check with their health care providers and pharmacy to make sure that they actually accept the card. In particular, customers should make sure any specific medications they use are covered, and find out how much the discount is to determine if the potential discounts outweigh the cost of the card. For example, people with Medicare who are interested in getting a prescription discount card can visit the NAMI website linked below to find out exactly which drugs are covered, how much the discount is and how much the card will cost.
Warning
Many companies provide misleading or inaccurate information about the cost of medical discount cards, the size of the discounts offered or how many providers honor the discount card. Many cards claim to offer discounts of "up to 60 percent or more," when in fact the discount for most medical services and prescriptions may be less than 5 percent, or nothing at all. Even "free" medical discount cards may come with administrative or service fees that are only revealed in the fine print, or require the customer to sign up for a monthly service after a free trial period, without the option to cancel the card. According to Insurancefraud.org, scam artists have even used medical discount card offers to steal credit card or bank account information from potential customers. In order to avoid medical discount card scams, consumers must make sure the card they choose comes from a reputable company, and fully understand the costs and benefits of the card.